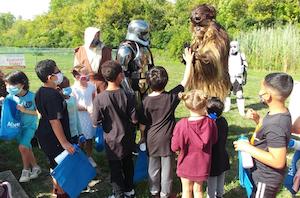 When your child comes home from a day at Horizon Education Centers, you might expect to hear about an entertaining book that was read, fun times spent with friends, and a snack that was enjoyed—but, Star Wars?
Yep! Star Wars characters came to Horizon. (photo source: The Morning Journal)
As The Morning Journal reports, the characters who came to our centers in Lorain spread "cheer and joy" as they handed out a total of 350 free water bottles and drawstring bags to the children.
READ MORE