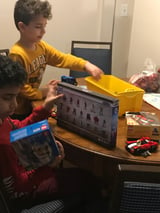 The holiday season is a time for giving and helping others, and that's just what Horizon did this past year. The staff at Horizon's North Olmsted location brought a little joy to a family who attends the center by purchasing gifts for four children.
Siblings Sajjid, Joud, Salam and Sama all received gift cards, toys and clothing. Staff also got the oldest sibling a pair of new Nikes after he expressed a desire for the shoes and because staff noticed his shoes were in poor condition.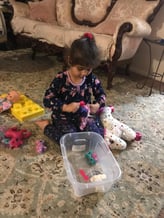 The children's aunt said the boy's face lit up as he opened his new shoes and said Horizon helped make everyone's Christmas.
Their aunt wrote to the staff:
"You should have seen them playing with all the toys. Sama loved her unicorn and everything else that was bought for her and the boys loved the legos and trucks. The coats, clothes and school supplies were also so welcomed and loved by each of them. I still can't believe Sajid came home with Nikes from the staff, a dream come true!!!
I can't believe there are such caring and loving people out there. These kids have been through a lot this year and you ended it on a very good note for them. Please thank all the staff and everyone who works at Horizon for all the wonderful things they've given to the children. Your support and understanding are so appreciated!!"
The Horizon staff loves to make a difference in the lives of the children we serve. Want to do the same? Check out our open positions.