Humbly, Horizon Education Centers began as the brainchild of Mary Smith, mother of four, in suburban North Olmsted, Ohio. Mary noticed that a large number of her children's friends were "latch-key kids," who would return to an empty home after their long school days, supervised by blinking television sets. This problem, combined with Mary's frustration of a lack of art programs in North Olmsted, led to the creation of Horizon Afterschool Center in 1978.
Smith found a home for Horizon in the historic North Olmsted Unitarian Church on Porter Road. The program offered afterschool classes in theater, gourmet cooking, mime, sewing, nature studies, cross country skiing, rhythmic gymnastics, and art for only a dollar an hour. The organization also provided free homework help and reading programs. The expert instructors varied from college students to housewives, artists to teachers, musicians to cooks, all of whom were volunteers.
1979
In 1979, Horizon needed to create more space for its programs. It moved to the third floor of the now-demolished Middle School Annex on Butternut Ridge Road. There, the center grew and produced a successful mime act, La Machine, which toured North Olmsted and the surrounding communities, raising awareness for the organization. The students performed fantastic shows in "The Hot Dog Dinner Theater" and "The Great Put-On" (which included acts from North Olmsted's community organizations), as Horizon's fundraisers.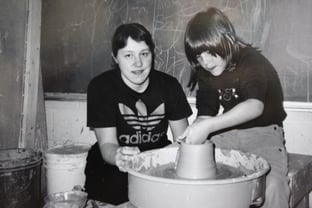 1982
In 1982, Chestnut School became available and better suited the rapidly growing afterschool center. Horizon was faced with its first major challenge: to raise $25,000 to pay for the utilities at the school before they could move in. "The Rainbow Connection," a coalition of community organizations to help Horizon raise the money, was formed. With help from The Rainbow Connection and large donations from member groups like the North Olmsted Soccer Organization, Horizon Afterschool Center is able to move into Chestnut School. It officially became known as Horizon Activities Center.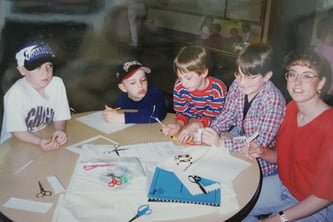 1989
In 1989, Horizon led a joint effort with other community organizations like Kiwanis and the City of North Olmsted, to provide an Early Intervention Center for special needs children. A house on Butternut Ridge Road was renovated and an enclosed pavilion with full-service restrooms was added to the property. It was renovated by volunteers from the community.
1995
In 1995, Mary Smith retired and became a Life Trustee, and David Smith — her son and member of the Horizon community since its founding — was appointed executive director. His first actions as executive director were to reform the board and have it work in subcommittees and further the professionalism of the organization.
1996
In 1996, Horizon Activities Center was approached by Lorain City Schools to put a successful afterschool and child care program, like Horizon, in Lorain. Garfield School in central Lorain was recently closed by the district and became the home of Horizon's first expansion.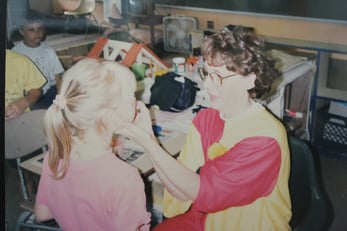 2001
In 2001, the North Olmsted Center was moved to the new state-of-the-art facility on David Drive. Horizon quickly became a powerhouse in child care, preschool, and afterschool in Western Cuyahoga and Lorain counties.
2012
In 2012, the organization officially became known as Horizon Education Centers as it moved toward providing children with education-based programs.
2013
In 2013, as part of its goal to provide excellent programming to Cleveland families, Horizon opened afterschool programs in three Cleveland metropolitan schools: Charles A. Mooney, Scranton and McKinley.
2014
In 2014, Horizon Education Centers purchased land on West 25th Street in Cleveland for its new Market Square Center. Horizon expanded its Cleveland market to the Brooklyn neighborhood in 2016 with the opening of Old Brooklyn Center.
2015
At the beginning of 2015, Horizon had six centers each at 3 stars, and by the end of 2016, five of the six centers were rated as 4 stars, and one was a 5 (the highest quality). Horizon is ahead of the state's quality goals of being highly rated by 2025.
2018
In winter 2018, Horizon Education Centers opened its 9th center, Lorain Community School, located at 1110 W. 4th Street, Lorain, offering preschool for children 3 years to 5 years of age.
2019
In spring 2019, Horizon Educations Center opened its 10th center, Triskett Station, located at 13700 Triskett Road, Cleveland, offering full-day care, education and afterschool programs.
2020
In summer 2020, Horizon Education Centers opened its 11th center in Berea, located at 555 West Bagley Road, Berea, offering full-day care for children 6 weeks to 12 years of age.
In summer 2020, Horizon Education Centers opened its 12th center in Lakewood, located at 13523 Detroit Road, Lakewood, offering full-day care and education for children 6 weeks to 5 years of age. This became the start of Horizon offering infant care at select locations, with plans to expand the service in the future to other Horizon centers.
2021
In July 2021, Horizon's new administration building was dedicated to its founder, Mary Smith, who passed away in November 2020. The building dedication took place on Thursday, July 29th, which was Mary's Birthday. The event was attended by the Smith family and friends, Senator Nickie Antonio, North Olmsted Mayor, Kevin Kennedy, Horizon's Board President, Tom Herbster, and Pastor Bivins.
The Horizon Difference
Horizon Education Centers has experienced rapid growth of quality rating in its center-based programs, measured by Ohio's tiered quality rating system knows as Step Up To Quality. Horizon has formed partnerships and collaborations that have flourished with agencies within Lorain and Cuyahoga counties. These programs focus on Horizon's core mission and bring in many other organizations in a united effort for children and youth. Horizon values all its supporters and funders for their faith and investment in Horizon. Horizon also appreciates the thousands of parents who choose a Horizon center for their children; there is no stronger endorsement.
Forty years after its inception, Horizon Education Centers is one of the most prominent sources of infant care, toddler care, preschool, summer camp and afterschool programming in Lorain and Western Cuyahoga counties. Horizon is a mission-driven nonprofit that ensures all families have access to high-quality programs, regardless of income or where they live.
Our Impact: "Horizon has made a big change in my family… They treat me like a friend, not a customer. The kids and I love the teachers. They have given me a lot of guidance on how to correct behavior and keep my children learning," said Anita, a Horizon parent. Horizon takes a comprehensive approach with an individualized care and education plan for each family.
The Future of Horizon Education Centers
Horizon continues to be an advocate in early childhood issues and aspires to increase its already prominent advocacy in the Ohio statehouse and nationally. Horizon strives to become the premier afterschool, preschool and child care organization in Ohio, and the first choice for families in need of local care.