Toddler Programs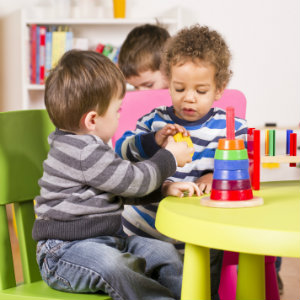 Choosing appropriate child care for your toddler child can seem like an overwhelming task because as a parent, it is your responsibility to ensure that your child is safe and happy in a child care environment that is fun, educational and nurturing. Horizon Education Centers offers a safe, nurturing environment that your toddler needs and deserves.
Toddlers, ages 18 months through 36 months, participate in numerous social and educational activities that focus on learning and development, including peer interaction, number sense, arts and crafts, and large motor activities—both indoors and outdoors.
Our year-round Toddler programs are aligned with Ohio's Infant and Toddler Guidelines:
Physical Health Skills: Develop self-help skills (hand washing, feeding and potty training)
Social and Emotional Development: Child-centered activities
Motor Development: Active indoor/outdoor playtime
Language and Communication Development: Early literacy and fine motor skills
Cognitive Development: Problem solving, attention and memory skills
Special Designed Facilities: Self-contained classrooms, restrooms and play area
1:7 Staff/Child Ratio: Qualified, Trained, Experienced and Nurturing staff and teachers:
... Breakfast, lunch and snack are served daily!
Our Nurturing Quality Staff
Our highly qualified Toddler staff works to guide your toddler into the wonderful world of language, by using sounds, songs, gestures and words. With our highly responsive care, it's vitally important for our staff to understand your child's needs and how to create a positive nurturing bond. Toddlers who receive responsive care are less likely to get in trouble, get hurt or experience extreme frustration.