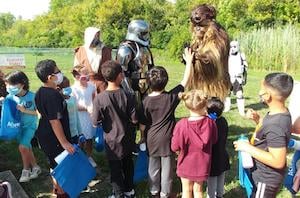 When your child comes home from a day at Horizon Education Centers, you might expect to hear about an entertaining book that was read, fun times spent with friends, and a snack that was enjoyed—but, Star Wars?
Yep! Star Wars characters came to Horizon. (photo source: The Morning Journal)
As The Morning Journal reports, the characters who came to our centers in Lorain spread "cheer and joy" as they handed out a total of 350 free water bottles and drawstring bags to the children.
There were plenty of smiles, all around!
The people dressed up in these costumes are part of a group called A Galaxy United, and they include Horizon board member Bret Fisher. He explained how he is part of the Ohio group for A Galaxy United, and shares that they dress up as Star Wars characters for charitable events.
As for Bret, he was Chewbacca!
Members of the group are all volunteers. They appreciate how Lucasfilm gives them permission to do this (the film company owns the rights to these characters), and they have fun making their own costumes.
As for the giveaways, these were graciously donated by Achieve Credit Union.
The Morning Journal also shared when the Star Wars characters visited three different Horizon Education Centers in Elyria. This dovetailed perfectly with the weekly theme at the centers—which just so happened to be Star Wars! Besides enjoying the characters and getting some cool swag, the children also made crafts and did other activities that fit the theme.
Bret notes how the day brought happiness and smiles to the children, something that's even more important in today's times. Interestingly enough, many of the children were just learning about Star Wars for the very first time, which made the visit even more special.
Creativity Abounds at Horizon
Yes, we'll admit it. Providing children with fun activities during COVID-19 can be more challenging than usual—but that only makes the teachers and staff at Horizon Education Centers more determined than ever to provide enriching, quality programming. And the Star Wars events are just one example of how we're focused on encouraging this type of student engagement.
Here's more about just some of the ways that we're keeping our centers safe. If this sounds like the type of learning environment you want for your children, you can take a virtual tour and request more information here.