Horizon Education Centers is always looking for new and innovative ways to educate your children. One of the ways we do this is through our relationships with AmeriCorps.
AmeriCorps is a voluntary civil society program supported by the federal government, foundations, corporations and other donors. It provides adults with an opportunity to engage in public service work. The program is often seen as a domestic Peace Corps.
Derrick Speights began his AmeriCorps service term at the Lakewood location of Horizon Education Centers in September 2020. He provides support to teachers by assisting with activities and lessons. He also works with the children, who affectionately call him "Mr. Derrick," on their social, emotional and literacy skills. He reads to the kids and even joins them during playtime.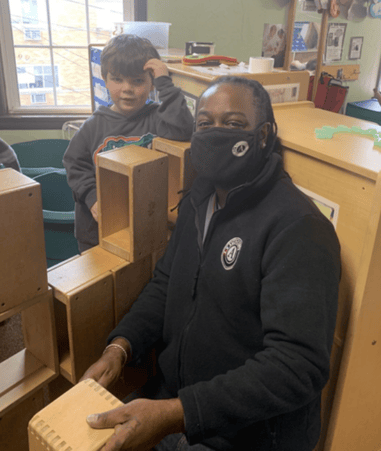 Mr. Derrick also helps put together a monthly e-newsletter and helps plan events like Virtual Parent Meeting Night.
When Derrick is not serving with AmeriCorps, he enjoys spending time with his family and traveling. He also loves collecting fun socks and has organized a couple of sock contests for the kids at HEC-Lakewood.
Derrick's term at Horizon Education Centers will end in August, but he plans to keep on serving in his community in some capacity, promoting unity and equality. He also hopes he can remain connected to the staff and the children at our Lakewood facility. Thank you, Derrick!
About AmeriCorps
22 AmeriCorps members provide academic enrichment and social-emotional engagement in the cities of Cleveland, Elyria, Lorain, and North Olmsted, Ohio.
During their service year, AmeriCorps members are responsible for improving social-emotional skills among the students they serve and take part in National Days of Service.