Horizon Education Centers is always looking for new and exciting ways to educate your children. Our partnership with AmeriCorps is one of the ways we do this.
AmeriCorps is a program that gives adults a chance to do public service work. It is supported by the government, foundations, corporations, and other donors. It is often compared to the Peace Corps.
James Johnson is an AmeriCorps member serving with Horizon Education Centers at our Triskett and Lakewood sites.
James' focus on social-emotional learning and service projects, his positive attitude, and his energy make him a great role model for the children he works with. Center Director Becky Volle says that James always comes to work with a smile and to make a difference in the lives of the children.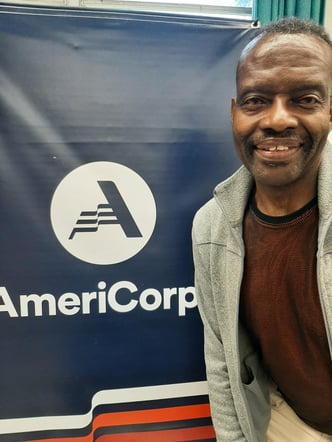 James is always enthusiastic and helpful when doing service projects, such as The Pioneer Freedge or serving at food pantries. He is always cheerful and the children love him, often asking him to play games with them.
Site Coordinator Je'Licia Graham says, "James is a great help in the classroom. He is always looking for new ways to entertain the children."
James Johnson is an exemplary AmeriCorps member, mentor, co-worker, and human being, and we are undeniably lucky to have him. Thank you, James, for all that you do for our children.
About AmeriCorps
22 AmeriCorps members provide academic enrichment and social-emotional engagement in the cities of Cleveland, Elyria, Lorain, and North Olmsted, Ohio.
During their service year, AmeriCorps members are responsible for improving social-emotional skills among the students they serve and taking part in National Days of Service.