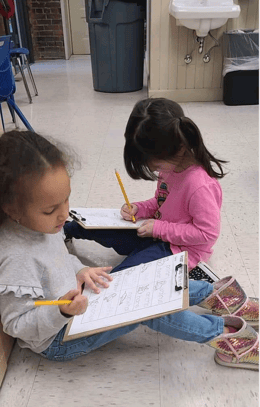 According to the National Center for Education Statistics, preschool programs are becoming increasingly common. In fact, their researchers say 68% of four-year-olds and 40% of 3-year-olds enrolled in a preschool program in 2018. Similarly, of those who were enrolled in preschool programs, the percentage attending full-day programs increased from 47% in 2000 to 54% in 2018.
The pandemic caused preschool enrollment numbers to drop in Ohio, but experts recommend parents re-enroll their children as soon as possible because of the fear of falling behind. "Not going to preschool, not registering when your child is eligible, could have a major delay in your child's learning capabilities," Erica Marks, the youth outreach and programming coordinator at the Cleveland Public Library, told news5cleveland.
And in Columbus, the need for early childhood education is so great, students who live outside the Columbus City School District are not considered for enrollment.
The pandemic-related enrollment drop is only causing educational disruptions for young children and could widen existing achievement gaps on many fronts. Many children are not only going to see a regression in their learning, but they're going to have a much more difficult time catching up. They'll make up for that lost learning at much slower rates unless preschools get the support they need.
Preschool Curriculums Provide Solid Learning Foundation
Most preschools promise to prepare children for kindergarten. While that is true, there are many more benefits preschool programs provide than just a solid foundation for learning. The social skills and physical development can't be overlooked.
Traci Ismail's 4-year-old daughter Isabel attends preschool at Horizon Education Center's Elyria Dewhurst Center. Ismail says she saw an immediate difference in Isabel. " My daughter Isabel has grown both academically and socially," she says. "Within weeks of starting, she was putting the letters of her name together, and six months later can write her full name."
But the goals of most preschool programs cannot be reached without the government's help. Budgets are tighter than ever and the need never greater. That's why government funding remains essential to the success of preschool programs like Publicly Funded Child Care, Ohio's public preschool, and Early Childhood Education.
The Need For Government Funding In Preschools
One of the biggest benefits early childhood education provides is that in addition to allowing parents to work, it prepares their children for kindergarten.
Megan Armbruster is a teacher at Horizon Education Center's North Olmsted location. She shared the story of a little boy who just moved to the United States from Romania. He, nor his parents, could speak English. "We started to notice a desire from him to want to learn English and communicate with his friends and teachers," Armbruster says.
So Armbruster and other staff members talked to the boy's parents and connected him to services through Ohio Guidestone. They also enrolled him at Rocky River Local School District in their preschool program. At the school, he is receiving Speech and Behavior Services and is now flourishing. "He has absolutely blossomed into a talkative 4-year-old who loves building, cars and trains," Armbruster says.
Preschool Promises More Than Education
"A student in my class has some significant behavioral challenges," says Amy Anaky, a preschool teacher at Horizon Education Center in Old Brooklyn. Anaky says the little boy would be redirected or asked to take short breaks away from the other children, in an attempt to correct his behavior. But then the child spoke up. "He began expressing feelings to his mother about not wanting to come to school because (he thought) 'No one liked him' and he got in trouble a lot," Anaky says. "His mom was concerned that he was developing a negative self-image, so she contacted me so that we could come up with a solution," she added.
So Anaky worked with the child's mother to develop a positive reinforcement system using a sticker chart. He is now recognized for good behavior and looks forward to seeing stickers being added to his chart every day. " His mom confirmed that the sticker chart has been beneficial for her son and that his negative outlook about school is improving," Anaky says.
State-Funded Free Preschool Programs Needed in Ohio
Preschool programs are child-centered, family-focused, comprehensive and community-based. In addition to providing comprehensive education, preschools promise health, nutrition, dental, mental health, social services and parent engagement opportunities to low-income, special needs and at-risk children and their families.
Providing state-funded services, from a quality preschool program, helps to shape lifelong learners, who may have never gotten the opportunity to do so. None of this is possible without government funding.
It's critical to the centers that provide these services and the families who need them most. They're getting access to research-based curriculums, qualified teachers, age-appropriate learning activities that help children intellectually, socially, and emotionally.