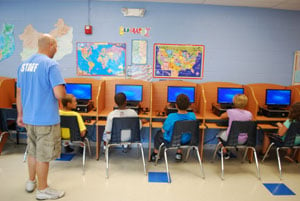 By the time a child reaches school age, it's likely he has had some exposure to a digital resource. If you have a desktop, laptop, netbook, gaming unit, tablet or smartphone in your house, you can bet your child has watched you use it, and may have even asked to try it himself.
Some parents are wary of the interaction between kids and computers, concerned about how a child of 2 or 3 might handle such expensive, delicate equipment. But increasingly, children with no computer background are in the minority. As far back as 2003, a study by the Kaiser Family Foundation noted that 31 percent of children ages infant to 3 years used a computer.
Today, the drive to digital education is changing the way teachers teach and children learn. In many districts, kindergartens and even pre-K curriculums are introducing computers in the classroom and media center. So giving your child a foundation in computer skills via early exposure will help her enter school in a better position to absorb and understand lessons based on a screen instead of a book.
What can you do?
Integrate computers with books

- There will always be a place in the toddler's heart for the printed picture book – bedtime stories wouldn't be the same without them. But you can integrate print and digital throughout the day – give your child screen time right after her nap, for instance, and read the printed book aloud to her at night.

Find age-appropriate programs

- The loud, screaming graphics and sound effects your teenager likes are not suitable for the youngest computer users. You can find toddler-targeted software for math, reading, drawing, and other skills.

Teach Internet safety

- It's never too soon to orient your toddler into the right and wrong way to use a computer. Set the right example by choosing appropriate sites and games, and instruct your child against downloading and chatting without supervision.