Step Up to Quality (SUTQ) is a rating and improvement system overseen by the Ohio Department of Education and the Ohio Department of Job and Family Services. This system recognizes and promotes learning and development programs that exceed licensing health and safety regulations using a five-star quality rating.
Step Up to Quality is the primary way learning and development programs are reviewed to see if teachers are effectively preparing children for kindergarten. A program must attain a score of at least three stars to be considered quality, with exceptional programs receiving either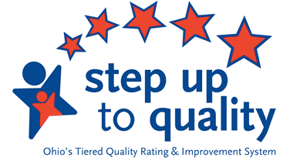 four or five stars.
Scoring follows a specific rubric. Child care centers earn one star if they are in the process of seeking a curriculum that meets the state's standards for early learning. A second star can be earned once the curriculum has been purchased and staff are being trained. When the curriculum is being used in class, the center can receive three stars.
Additional considerations include:
student screenings and assessments
teacher education
ongoing teacher training
interactions with families
feedback opportunities for families
To go beyond three stars, a center must go further in providing quality. So far, participation in SUTQ has been optional but effective July 1, 2020, Ohio will require centers that receive any public funding, including ones with students subsidized by the state, to be rated.
Why Step Up to Quality is Crucial
Learning and development programs for children are vital for preparing children for kindergarten and beyond. Based on national research, early learning is very important with 90 percent of brain development already having taken place by the time a child is 6 years old. Programs like preschool can be the ideal opportunity for creating the educational foundation of your child's entire life.
Horizon Education Centers
We take pride in providing learning and development programs that exceed levels of quality required by Ohio child licensing, with five of our 11 of our centers awarded the 5-Star Step Up to Quality Rating: Berea, Cascade - Elyria, East Lorain, Lakewood, and Southside Lorain.
Ways in which we've achieved the highest rating includes:
Employing teachers who have worked hard to attain their teaching degrees
Performing ongoing assessments throughout the year to evaluate development and help improve student growth
Providing written plans for activities during all instructional hours of the day
Plus, three of our 11 centers have the 4-Star Step Up to Quality Rating, including Dewhurst - Elyria, Market Square and North Olmsted. Three additional centers have the 3-Star Step Up to Quality Rating: Lorain Community, Old Brooklyn and Triskett Station.
Ways that we went above and beyond the three-star rating include:
Having lower staff-to-child ratios
Employing an administrator and teachers that have a bachelor's or master's degree and many years of experience working with young children
Having the administrators and teachers complete more than 20 hours of specialized training every two years
Using written, research-based lesson plans
Building relationships with and valuing input from families and the community
Thanks to our high ratings, you can be confident that we're providing the right preschool environment to help your children develop the social, emotional, critical thinking and physical skills that will help them do better in school and throughout life.
Schedule a Tour Today
To see if our programs are right for you, fill out this form to schedule your tour. We'd love to talk to you!