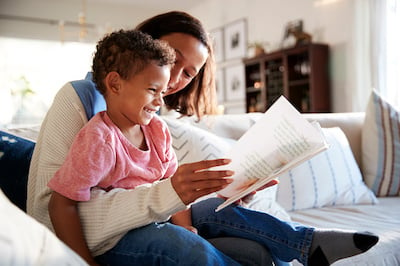 The Sit Together and Read program is now called the STAR Read-Aloud Practices. No matter which name you use, though, this program is helping young children in Ohio to reap the proven benefits of shared book reading.
At a high level, these practices were created for educators and caregivers to help them encourage young children to develop their reading skills. They follow evidence-based reading best practices and are in fact the practices we now follow at Horizon Education Centers.
Fortunately, you don't have to understand all of the intricacies of the program to recognize the importance of strengthening reading skills in young children. These benefits include the following:
Brain scans indicate hearing stories can strengthen the brain—specifically, the parts connected to "visual imagery, story comprehension and word meaning"
Children who are read aloud to three or more times a week are much more aware of phonemics, meaning the distinctive sounds that make up a language
Children who have books read to them during early childhood can experience stronger social and emotional development; plus, they tend to be less aggressive with better attention skills
When books are read aloud to children, these children typically learn how to share their feelings more effectively and to better manage their challenging emotions, including anger and sadness
Tips to Read Aloud to Your Child
Tips include the following:
Whenever it makes sense, let your child choose the book. You can make a trip to the library together or browse through the books you have at home.
When needed, help your child to pick an age-appropriate book. If the one they choose is too simple or too complicated for your child's current comprehension level, he or she may get bored too quickly.
Have fun while reading. You can read in different voices for different characters, also emphasizing sounds in the story, whether that's a dog barking or booms of thunder.
Know that your child will likely gravitate to favorites, and that's OK. That can actually help him or her to develop reading skills more quickly.
Sit Together and Read Background
If you'd like more detailed information about the program, here's a historical overview, plus current clinical trial information that's housed on the U.S. National Library of Medicine website.
The studies originally took place in Head Start programs and early childhood special education classrooms, with four different areas of focus:
words
letters
book and print organization
print meaning
Teachers read each book two to four times a week in a group setting for 30 weeks with proven success. The study was then moved to early childhood special education classrooms throughout Ohio with positive results. In the next phase, the program was used at a children's hospital in Ohio with children receiving speech therapy, again with significant improvements noted. Finally, early childhood special education teachers around Ohio began using the most recent version of STAR Read-Aloud Practices in another phase of the study.
This evidence-based reading program is now being used to help accelerate reading skills in children in foster homes and in other vulnerable situations. Another current goal is to improve interactions between the child and his or her caregiver.
Horizon Education Centers and STAR
If you're looking for a preschool for your child and would like one that focuses on the improvement of children's reading skills, then we invite you to contact us for a tour. Our centers follow the STAR Read-Aloud Practices and our early childhood professionals are trained to help your child improve his or her reading comprehension.
Locations include:
We'd love to talk to you! Contact us today.