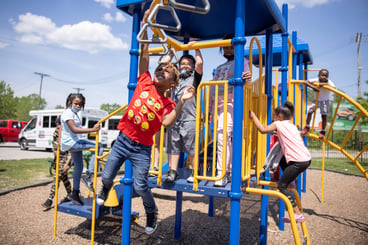 The varying needs of older children — defined in this context as fourth-graders through middle schoolers — can provide an array of challenges when designing an effective afterschool program that will build confidence, foster independence and promote growth. This is true because the youth of these ages are quickly maturing as they approach their high school years and because each student has unique needs as they progress along their journey.
This post will share more about the challenges that older children can face — and how the structure and benefits of a 21st Century Community Learning Center can effectively meet them to confidently prepare youth for their future.
Ever-Changing Needs of Older Children
Most of these youth are experiencing rapid changes that affect them in different ways. Their bodies are growing at a rapid rate, which can leave them feeling awkward and unsure of themselves. This is happening right when they typically need to boost their self-confidence, which means they'll need a program that allows them to prove their worth and build a sense of independence.
In short, even though they strive to be treated as adults, students in these age groups are still growing, learning and developing — which is why they need an afterschool program that meets their unique needs to help them achieve their own personal goals.
Providing them with a creative atmosphere is helpful as it encourages them to explore the world around them as they develop their own set of values within a world they're trying to understand.
Meeting Older Children Right Where They Are
At Horizon Education Centers afterschool program, we understand that your son or daughter is unique. That's why we offer the type of afterschool program that fosters learning and enriches the time they spend with us. We provide hands-on tutoring to our students who need help with their homework, and this additional assistance is available to your student individually or in a group setting, whichever they prefer, or whichever structure works better for them.
Students can also take part in a variety of clubs, based on their interests. We offer them technology clubs, cooking clubs, environmental clubs and more. No matter what interests your older children have, they'll have no problem finding their niche while they are a part of our program.
More About Afterschool Programming
Programming is specifically created to enhance a student's desire to learn with options for hundreds (literally!) of engaging activities. Our caring team helps program participants by providing direct instruction and immediate feedback while using a technology-powered curriculum that includes audio assistance and opportunities for youth to repeat instruction as needed.
Children naturally learn through repetition and the reality is that during a typical school day, there often isn't enough time to review material and repeat concepts. In the smaller setting at our 21st Century Community Learning Centers, that's exactly how youth can benefit.
We offer afterschool programs in multiple school districts, and you can find information about our afterschool programs here. Contact us to learn more about programming that extends learning opportunities, provides tutoring and homework help, and much more.