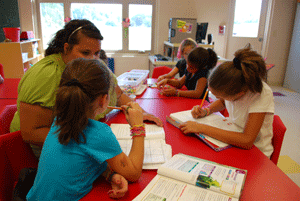 From a practical standpoint, quality programs allow parents to work while knowing their children are in a nurturing environment outside of school time. That by itself is quite important, so we'll delve more into that benefit, along with four other valuable ones connected with high-quality afterschool programs.
#1 Enhanced Social Skills
If your child is shy, then a quality afterschool program can help them feel comfortable around other kids and make it easier to join in conversations, activities and games. Staff at an afterschool program who create an environment of respect and collaboration can help to ensure that everyone gets a chance to participate. This added socialization time can make a world of difference in youth development and provide lifelong skills.
#2 Homework Help
Afterschool programs can provide much-needed support for children who need assistance with their homework. And, when it gets done before the child goes home for dinner, this can make the evening a more relaxing time for families, and give them a chance to spend time together rather than stressing out about homework assignments.
#3 Improved Academic Performance
According to Youth.gov, more than 40% of students who attend programming at 21st Century Community Learning Centers experience improved reading and math grades. When youth attend more often, it's more likely that they'll make even more gains in their grades. These types of programs can be found at local elementary schools or child care centers.
#4 Opportunities to Develop Interests
Quality programs allow children to experience enriching activities in art, music, science, sports, and more. They can enjoy unique cultural experiences and otherwise have the ability to broaden their perspectives. Sometimes, school-age children are introduced to activities for the very first time. In other situations, they have the chance to engage in them more often than in school. In either case, this opportunity for expanded learning can be a positive experience for youth.
#5 Safe Environment and Afterschool Supervision
Returning full circle to how we began this post, afterschool centers can provide a secure venue for youth and peace of mind for parents. The reality is that the hours between 3 p.m. and 6 p.m. can be the most worrisome when quality care is not available during a time that conflicts with a parent's work schedule. When unsupervised, children face numerous risks, with AfterschoolAlliance.org noting that these are "peak hours for juvenile crime and experimentation with drugs, alcohol, cigarettes and sex."
Plus, when children are not part of an enriching program, this is a "time of lost opportunities to help students grow and develop the skills and competencies to make positive life decisions that can lead to their future success."
Afterschool Program Fall Enrollment
Where did the summer go? It's time for fall enrollment at Horizon Education Centers, where we provide quality child care programs for students before and after school. This year, we're offering even more comprehensive programming to care for your child, offering full-day care for students in school districts where attendance is being staggered to keep classroom ratios lower.
In other words, when schools are closed, Horizon is open.
Our programming includes virtual learning help, physical and wellness development, STEM exploration, and tech capabilities for schoolwork. We provide breakfast, lunch and snacks, and transportation is available.
Here is more information about our afterschool programs. To ask questions or to enroll, simply scroll down this page and fill out the form. We look forward to discussing our program with you!