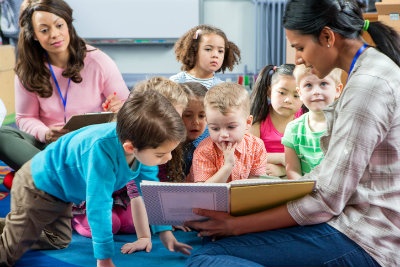 "Students who attend high-quality preschool programs reap benefits that can last through school and their lives, according to a review of research." (Learning Policy Institute, 2019)
Optimizing the size of a preschool class can play a key role in the quality of the program. That has long been true, but appropriately managing preschool class size is more important during COVID-19 than ever before to create a safe environment where children can learn, socialize and grow. In response, the state of Ohio temporarily modified the teacher-student ratio, but that has since been returned to normal.
Preschool size requirements are as follows in Ohio:
For children aged 30 months to less than 3 years: a 1:8 teacher-student ratio, with a maximum class size of 14
For children aged 3 years: a 1:12 teacher-student ratio, with a maximum class size of 24
You may be wondering why, from an educational and socialization standpoint, preschool class sizes matter. This post describes many of the benefits of smaller classroom sizes in early education settings.
Benefits of Small Preschool Class Sizes
At a high level, small classes allow teachers to focus more intensely on each child, interacting with each child more frequently and more extensively. Greater individual attention and smaller groups stimulate complex play and exploration and foster problem-solving skills and greater social interaction.
More specifically, the National Institute for Early Education Research (NIEER) verifies that a "large body of evidence links high-quality preschool education with substantial increases in school readiness and persistent achievement gains as well as lower rates of grade retention and placement in special education programs."
Other research has connected quality preschool experiences with better high school graduation rates, reduced rates of delinquent behaviors and future arrests, and so forth. When looking specifically at children who are growing up in lower-income households, there are multiple studies noted by NIEER that indicate the importance of smaller class sizes in their early educational experiences.
Small class sizes also allow teachers to perform at their best. You can consider your own experiences as a parent and pretty quickly realize that, if your children each had several friends over to your house—and then each of them brought several more friends—you clearly wouldn't be able to give any one child much personal attention.
The same is true with preschool teachers and their classrooms.
Now, here is one more snippet from NIEER about the benefits realized when teacher/student ratios are smaller: "Teachers provide more stimulating, responsive, warm, and supportive interactions. They also provide more individualized attention, engage in more dialogues with children, and spend less time in managing children and more time in educational activities."
Preschool Classes at Horizon Education Centers
We offer right-sized preschool programs to maximize the benefits for your child. We highly prioritize your child's safety during COVID while focusing on:
Kindergarten readiness
Literacy skills
Verbal skills
Social skills
Numbers recognition
Letters recognition
Developmental screenings
Developmental assessments
If this sounds like the kind of enriching experience you'd like to provide for your child, you can take a virtual tour and then let us know how we can help you.