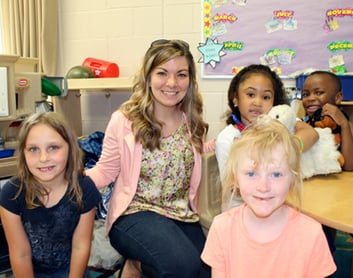 There are so many child care and preschool options available today that parents can feel overwhelmed when it comes time to make a choice for their child. Location and cost will certainly play a role in a parent's decision-making process but should not take precedence over the quality of the care and the programming provided.
Before enrolling your child in a child care or preschool program, you should interview the staff, tour the facilities and, if possible, observe a class. Many child care facilities conduct periodic open houses that allow parents and children to visit the facility together, meet the staff, and engage in a few activities. They're a wonderful way to try out different child care programs to see which is the best fit for your child and can help to prepare your child for a big step in life. Centers may require appointments for a tour during COVID, rather than holding traditional open houses, but you can get the same benefits along with more personalized attention.
When choosing a child care or preschool program for your child, look for the following hallmarks of a high-quality program:
The center should be staffed by friendly, caring teachers who are trained in early childhood education — and the center should also provide ongoing teacher training.
At the preschool and pre-kindergarten level, there should be at least one teacher for every 10 children with fewer than 20 children in a class. Teacher-to-student ratios should be much lower for younger children. Generally, the lower the teacher-to-child ratio, the better.
The curriculum should offer a variety of active and quiet activities, promote appropriately progressive skill development, and have a solid foundation in accepted early childhood research.
The center should encourage parent involvement.
Safety is also key in child care and preschool centers, so investigate protocols put into place to ensure they meet your levels of comfort. For example, check to see how your child will be signed in and out of the facility, and look for signs that these safety protocols are carefully followed. Ask about COVID-19 protocols, along with any other health and wellness questions you may have.
Watch for warning signs. For example, if child-to-teacher ratios seem too high, this can mean that children won't get the time, attention, and care they need. If you notice high teacher turnover, that's another red flag.
Also, check the center for their levels of cleanliness and childproofing. Nowadays, strict attention to hygiene is more important than ever before, so check to see how clean surfaces are, whether all is tidied up after meals, and whether toys are put away after use. Look at sockets to make sure they're childproofed and otherwise inspect the room to see how much safety is valued in the center you're considering.
Other red flags include policies that are hard to understand. If when you ask for clarification, you aren't satisfied with answers or there is a significant delay before you get a response, beware.
Do children seem engaged with age- and skill-appropriate activities? If the youngsters seem bored, that could indicate they aren't being provided with stimulating opportunities.
Horizon Education Centers
We offer a variety of child care programs at our 12 conveniently located centers for children ages 6 weeks to 12 years. We also offer before-school, wrap-around, and afterschool programs at all of our locations and in many schools in western Cuyahoga and Lorain counties.
No matter your child's age, they'll participate in social and educational activities that are led by highly qualified staff who care about their unique development.