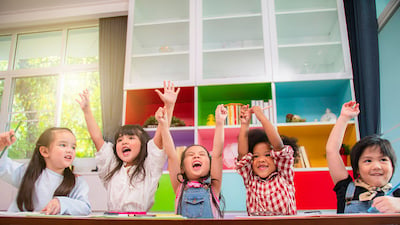 Overall, early childhood experts consider preschool to be the period of time that starts two years before a child begins kindergarten. Many preschools make 3 the minimum age, with others willing to accept 2-year-old toddlers. So, before you begin preparing your child for preschool, make sure that he or she is—or soon will be—an acceptable age for preschool programs of choice.
Now, here are five tips to help prepare for preschool.
Tip #1 Determine if PIECES will be in place
Understood.org provides a good description of how to determine if your child is ready for preschool using the acronym of PIECES. Letters stand for:
Potty trained
Independent
Expressive
Concentration
Emotionally Ready
Stamina
Note that not all centers have the same policies or expectations; for example, some will take children who are not yet potty trained.
If you have concerns about any of these developmental milestones, you can bring up the issue with your child's pediatrician.
Tip #2 Don't over-prepare your child for preschool.
If you feel that your child is ready for preschool, take a reasoned, balanced approach to preparation, including the period of time that you prepare your child. A balanced approach may include driving by the center two or three weeks before your child will start, rather than discussing it for months in advance.
As you drive by, you can share the name of your child's teacher, what door you'll use to meet up again after preschool is over, and so forth. It can also help to visit the center while it's in session to introduce your child to his or her teacher and allow time for exploration of the room. You can tour the playground together and talk about what happens at preschool, from storytime to snack time, and from learning new things to meeting new people and making new friends.
#3 Create a healthy regular routine.
Create a daily schedule that will help you to transition your child to preschool. Experts say children learn best with established routines and daily. Routines teach children about order, sequencing and concepts of time. Established routines help ease transitions and help children mentally prepare for the day ahead.
A morning routine, for example, can include your child helping make the bed, and then getting dressed, eating breakfast, brushing teeth, and so forth. A chart can help your child do what's needed, and you can use stickers to show what's been completed.

Bedtime routines can include taking a bath, brushing teeth, getting into pajamas, hearing a bedtime story and so forth. This routine should be designed to get your child physically and emotionally ready for bed.
#4 Read books together about starting preschool.
When you read books together, this can help to prepare your child for starting preschool while also strengthening your child's phonic skills and more in preparation for learning how to read. There are several books that can help to prepare children emotionally for school (jitters can be a normal part of the transition, although not all children experience them).
Some ideal books for preparing your child for preschool include:
#5 Find ways to make the transition enjoyable.
As you prepare for preschool, think of what will make your child feel more relaxed, happy and comfortable. If your child is allowed to bring a snack, for example, ask what he or she would like to choose. You can also go shopping for school clothes, a backpack and so forth. Even if you don't plan to spend lots of money on new items — perhaps the backpack is a hand-me-down — it's still new to your preschooler and that can be part of the excitement. You can also ask the preschool program if your child can bring pictures of family members to the classroom.