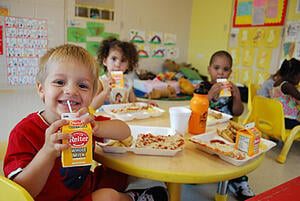 Early childhood education options like preschool provide a safe, nurturing, educational and social environment for children. While preschool is not required as part of your child's education, sending them to a highly rated preschool program can have benefits that stretch far beyond the classroom. Here's what you should know if you're wondering: Do children really need preschool?
Benefits of Preschool
Benefits extend into adulthood: Sure, your child will learn about letters, numbers and colors in preschool, but researchers have found that children who attend preschool are less likely to be arrested, more likely to graduate and more likely to attend and complete college.
Helps with social and emotional development: In addition to teaching your child some academic skills, preschool helps your child develop their social and emotional skills. In preschool, your child learns about sharing and taking turns. Students also learn about empathy and emotional regulation. Helps your child prepare for kindergarten: Kindergarten can be a big adjustment. Preschool programs — even part-time ones — help your child get used to a classroom environment and prepare them for the transition to kindergarten by helping them learn routine and listening skills.
Encourages physical development: Not only does preschool help your child develop socially and emotionally, but it also gives them a chance to play and develop physically. Preschool encourages exploration through play and the development of fine motor skills.
If you're considering preschool for your child, also keep in mind these things:
Is your child toilet trained? Many preschools require that students be toilet trained and able to wash their hands with minimal assistance.
Can your child spend time away from you? If your child has not been to daycare, a transition to preschool may be difficult. To remedy this, have your child spend short periods of time away from you and your home. This could be through a gymnastics class or time with friends or grandparents.
Does your child enjoy playing with others? Preschool teaches your child about sharing and taking turns, but they will also learn how to sit quietly with others during storytime or naptime, for example. If possible, try and reinforce these concepts with your child at home before they head to school.
The skills that children used to learn in kindergarten are now being learned at the preschool level. Children who are not afforded the preschool experience do not necessarily arrive at kindergarten unprepared, but most parents feel that enrolling their child in a high-quality preschool program gives them an advantage in both social readiness and educational skills.