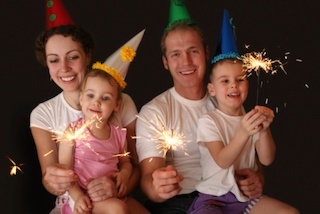 If you're looking for fun ways to stay home and enjoy New Year's Eve with your young children, PBS offers plenty of creative ideas. One of them is to celebrate the Noon Year, rather than the New Year (and this idea would allow you to celebrate as a family and, if you so choose, to then attend an adult-only party later on). Noon Year parties can take place at noon on December 31, with sparkling juice toasts. Children can make signs with numbers from zero to 10 and then hold up the appropriate signs as you count down together from 10 to zero — and then shout "Happy Noon Year!"
Another idea is to create a Resolution Tree together. Putting away holiday celebrations can feel sad to young children, but you can turn it into a fun event. After you as a family take the ornaments off the Christmas tree, you can then put on resolutions written on note cards and hang them off the branches using ribbons. The resolutions can be to exercise together more, to eat healthy breakfasts, to share toys and so forth.
Yet another idea would be to set alarm clocks to go off as midnight occurs in various places around the world. You can read about how people celebrate New Year's in other countries. For example, in Spain, each person begins the year by eating a dozen grapes.
Need more information about those global traditions? Scholastic.com is a good source. Common customs include blowing whistles, ringing church bells and otherwise making lots of noise. New Year's hasn't always been celebrated on January 1, though. Ancient Greeks considered the new year to start on the date of the new moon after June 21, while Ancient Romans considered the year to start on March 1. You can read this article by Scholastic and find even more interesting information to share with your children.
BrightHubEducation.com provides more tips on how to celebrate with your young children, including making your own environmentally friendly confetti out of old newspapers or magazines, or scraps of construction paper left over from previous art projects. You can supervise your child as he or she uses safety scissors to turn these materials into 2-inch pieces of confetti. Bag them up and then toss them in the air when the countdown to 2017 ends.
Finally, what's a New Year's Eve celebration without a special drink to use as a toast? Sparkling juices come in several flavors, including grape and apple, or you could make your own beverages. GrowingUpGabel.com provides links to 20 different party drinks suitable for entire families.
How does sparkling raspberry and blackberry lemonade sound? You'll need 6 cups of blackberries and raspberries, plus a ½ cup of sugar, 7½ cups of homemade lemonade and 4 cups of lemon-lime soda. Find steps on how to blend together the ingredients here.
Or, what about Berry Blue Jello slime drink? You'll need a cup of boiling water, 2 cups of cold water and a package of Berry Blue Jell-O (or another flavor of choice). Make the Jell-O and refrigerate until stiff. Then break the Jell-O apart with a fork.
Pour equal amounts of lemonade and lemon-lime soda in a glass until it is three-quarters full. Then spoon in some Jell-O and stir slightly. Cheers!
Looking for more ways to enrich your child's learning and life? Horizon Education Center provides affordable quality care, including educational and enrichment opportunities for children in the following Northeast Ohio locations during the holidays and throughout the rest of the year.