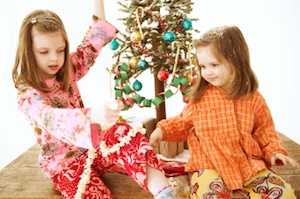 If your family decorates for the holiday season, your children will most likely want to be part of the process. If so, then here are tips for child-friendly decorating from About.com.
One idea is to teach your child how to string popcorn or beads to create homemade garland that can be used on a tree. Because a needle is involved, you can either supervise your younger children or assign that to older children as you help the younger ones with another decorating project or hang ornaments that you'd like handled by adults only.
If your family uses a manger scene or one of the many wintry village scenes used to evoke the season, your child may be able to help set them up, especially if the parts are made out of plastic or are otherwise not easily broken. Consider layering a table or other flat surface with white and green tablecloths to create a snowy base. Then let your children use their imaginations as they arrange the pieces.
Combining a couple of About.com's ideas into one, you could also provide your children with large, shallow bowls and allow them to fill them up with ornaments, greenery, LED candles and the like.
Making Decorations Together
Parents.com provides a video that shares how to make tree decorations using clear plastic ornaments, plus acrylic paints and a paper cup; or using the clear ornaments plus pom-poms, feathers and crinkly paper; or the ornaments plus adhesive-backed foam dots and glitter. The version using paints is more appropriate for children who already have better eye-hand coordination.
Another video shows how to make a "darling dove" that can be hung up on the tree — and is easily mailed to faraway friends or family members as a gift. For this project, you print out a template (URL provided) and then gather stiff white felt, scissors, tacky glue, a pencil, needle and floss, plus those googly eyes available in craft stores. Your younger children will need help, but older ones may be able to make these on their own.
There is also a video that shows how easy it is to make tabletop trees using only old magazines, tape, a glue dot and a small gold ornament.
Following the Theme into Dinner Time
Kidspot.com.au offers a recipe for making snowman-shaped pizza. If you're feeling especially ambitious, you can follow their exact recipe, which involves making homemade crust — or you can enter into the spirit of it by buying premade crusts and using the olives and carrots as directed to decorate the pizza.
This site also offers a fun recipe for Rudolph pancakes that feature bacon antlers and are decorated with marshmallows, dark chocolate chips and strawberries. Want to add in dessert to the day's festivities? Here are Christmas tree cupcakes that rely on Smarties candies for the mini-ornaments.
Also consider serving the traditional winter standby: hot chocolate. PopSugar.com offers recipes for seven different varieties that are kid-friendly, including one with an added touch of mint, one using white chocolate — plus one easily digestible for lactose-intolerant children.
No matter which of these you choose to try, enjoy!
Looking for more ways to enrich your child's learning and life? Horizon Education Center provides affordable quality care, including educational and enrichment opportunities for children in the following Northeast Ohio locations during the holidays and throughout the rest of the year.