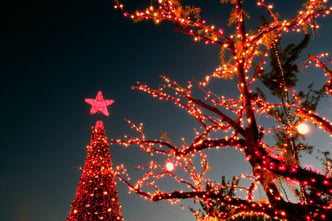 Quality, family-friendly activities ... either for free or at a very low cost. It just doesn't get any better than that—and it's all available at the Lorain County Metro Parks or in downtown Lorain.
Carlisle Visitor Center: Holiday Lights
From Nov. 27 through Dec. 30, enjoy the holiday lights at the Carlisle Visitor Center from 6 to 9 p.m. Sundays through Thursdays, and from 6 to 10 p.m. Fridays and Saturdays; the display is closed on Christmas Eve and Christmas Day.
Here are some details:
"By popular demand, the decorated trail stations along the ½-mile paved loop trail will once again be themed to represent various classic holiday movies. These stations are conceived and decorated by many creative Lorain County businesses, organizations and agencies. The Little Green Choo Holiday Express will also be running daily; offering rides through another decorated trail display (no walking on this secondary trail)."
The visitor center is located at 12882 Diagonal Road in LaGrange. Attendees are asked to bring one non-perishable food item to be donated to the Second Harvest Food Bank, and refreshments are available for a small fee.
On Saturday nights, children can make crafts. See the site for other special activities—and enjoy a look at Christmas past at Carlisle.
Lakeview Park: Light Up Lorain Waterfront Winterfest
Downtown Lorain will be ablaze in holiday lights during the Light Up Lorain Waterfront Winterfest on Nov. 28—with Lakeview Park (lakeside) fully participating. Santa Claus will be available from 5 to 7 p.m. in the Rose Café for photo opportunities, and there will be hot chocolate, cookies to decorate and crafts for kids to enjoy. Plus, you can see the lake and the lighthouse in all its wintry glory.
Consider heading to Lorain a little bit earlier to enjoy the 4:30 p.m. holiday parade on Broadway, followed by a "fireworks extravaganza that will fill up the city skies with splashes of sparkle and color."
On Sunday, Nov. 29, bring your ice skates to the Black River Landing to enjoy some skating, plus check out the ice-sculpting competition and hop into a carriage for a horse-drawn carriage ride. Santa will be at Santa Land!
At Lakeview Park, the lights will be turned on every evening through Dec. 31 at 1800 W. Erie Ave., Lorain. Santa will also be in attendance on Nov. 29, plus Dec. 2, 4, 6, 9 and 12.
Miller Nature Preserve: Tropical Holiday/Northern Holiday Display
From 10 a.m. to 6 p.m. Nov. 21 through December 30, you can see how "people with palms celebrate the season ... Participate in sand castle-making, luau (12/20), a beach party (12/30) and more." The cost is $2 and the display is open until 7 p.m. on pre-Christmas Tuesdays in December (1, 8 and 15). The nature preserve is located at 2739 Center Road in Avon.
Looking for more ways to enrich your child's learning and life? Horizon Education Center provides affordable quality care including educational and enrichment opportunities for children in the following Northeast Ohio locations.