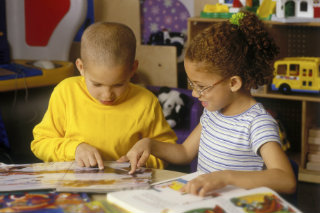 Picture yourself walking into a social or work event, and you don't know anyone else there. How do you feel? You might see it as an exciting opportunity to meet new people — or you could feel pretty nervous. No two adults would react in exactly the same way, and preschoolers are the same.


Preparation is the key to feeling more comfortable in new situations, and Parenting.com provides excellent suggestions about books to read to your child (and a DVD to watch together) that describe the preschool experience and help your child feel more prepared. They are:
· Maisy Goes to Preschool: Maisy's day includes time with friends with activities to enjoy, from "the time she hangs her coat on a special peg to the time she says good-bye. There's painting and snack time, stories and nap time (and a bathroom break in between)." Maisy and her classmates make noise with instruments together and play outdoors on the sliding board and in the sandbox. School Library Journal calls this book "reassuring and fun."
· What to Expect at Preschool: This book, starring Angus the lovable Answer Dog, provides information in a reassuring way about what "preschool is like, what preschoolers do, who teachers are, and how they help to make preschool such a fun and special place." Booklist calls this "a must-have guide."
· Sesame Street: Ready for School DVD: Elmo is getting ready for school, and his friends chime in to share their favorite experiences, including "singing and dancing, showing their drawings to their class, and learning how to share." Soon, Elmo can't wait for school to start.
More Readiness Activities for Preschool Prep
The U.S. Department of Education provides a list of school readiness activities in three categories: music makers for young children; scribble, cut and paste for children entering school; and getting along, for children of any age.
To help your child be creative in music, the site suggests you allow your child to "bang a spoon on pots, pans, or plastic bowls; shake a large rattle or plastic container filled with beans, buttons, or other noisy items; and blow through empty toilet paper or paper towel rolls."
And while that may seem like simply play, music benefits your child in many ways. This article shares 10 of them; we'll highlight three. First, it boosts brain power, as numerous studies have shown correlations between music exposure and higher academic achievements. Music also improves memory, by stimulating different brain development patterns, and it can help children socially.
You can also help in getting your child prepared for preschool by strengthening their fine motor skills, crucial for writing. This can be done by giving your child various kinds of paper, along with crayons, markers and washable chalk. Let him or her create! Help your child learn how to use blunt-tipped scissors and cut scraps together. These scraps can be cloth or yarn, paper or string, or even cotton balls.
Finally, help your child with manners, with resolving conflict, with including others in games and more. This will help your child feel more comfortable in preschool — and so will choosing a quality preschool where children are welcomed, encouraged and listened to.
We'd love to have you visit one of the northeast Ohio locations of Horizon Educational Centers to see how we provide year-long learning enrichment opportunities. You can also find more tips on getting your child prepared for preschool here.