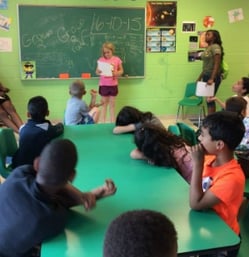 Life as a preschooler isn't like it used to be! Educators have discovered much more about how young children learn and technology has greatly expanded the ways in which learning can be fun. Here are highlights on how preschoolers learn nowadays.
MetroKids.com
In their article, Preschool Trends for a Successful Start, they share research that confirms what people who spend time with young children already know intuitively: that play is crucial to a child's healthy development. Other highlights focus on:
Experiential learning: children learn through experimentation
Outdoor/environmental learning: offering a hands-on exploration of nature helps children to learn about science and about how to learn through practical experiences. Students who learn outdoors, even for short amounts of time, tend to have better attitudes and health, along with higher rates of attendance
STEM: teachers are successfully introducing an emphasis on science, technology, engineering and math in age-appropriate ways now with children as young as pre-kindergarten
Apps make learning fun
The Guardian lists ten children's app trends from 2015 with the caveat that apps should be just one of the ways that children learn and have fun. They shouldn't replace, the article says, "reading books, riding bikes, playing sport, drawing pictures with pencils, digging for worms . . . doing things away from screens."

With that out of the way:
Children's apps are becoming more of a seamless blend of the benefits of books, television and games.
Increasing numbers of apps are going to help children to become active storytellers, including ones where children can write about and draw characters as they read.
Expect an increase in parental dashboards that will allow you to log into your mobile device to check your young children's activities and progress. These apps will also suggest non-digital ways to build upon app-style learning.
Experimentation is taking place to see if apps can help young children develop the kind of thinking needed to work with computer coding.
Musical apps will allow children to increasingly interact with music – or even create it from scratch.
Be sure to read the entire article. We've only skimmed the surface here.
Meanwhile, Kids@Play shares the winners of KAPi awards for innovations in children's media. The 2015 Best App for Younger Children Winner is LumiKids Park that creates play-based experiences for children as young as two. Your child can explore a digital playground in a way that strengthens "building blocks for healthy development including cognitive, motor, and social-emotional skills." Bright colors, cheerful animation and catchy music makes this game engaging.
If your child is a little bit older, consider the Toca Pet Doctor app (ages 2-6). This app allows your child to help care for 15 different sick or injured animals, ranging from a dog to a turtle, bird and more. He or she can flip the upside-down turtle so it's right-sided again, catch fleas in a dog's fur, feed seeds and berries to birds and the like.
Education Writers Association
We thought this was important to include, because it shows how quality preschool does much more than help your child do better in school. Here's more.
At a 2015 gathering, Diana Rauner (Ounce of Prevention Fund president) and James Heckman (Nobel-Prize-winning economist) shared how the "benefits of preschool are not just about book smarts but lead to healthier outcomes."
And, who doesn't want that?
Looking for more ways to enrich your child's learning and life? Horizon Education Center provides affordable quality care including educational and enrichment opportunities for children in the following Northeast Ohio locations.