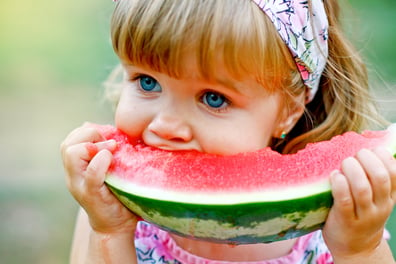 August 3 is unofficially National Watermelon Day. We say "unofficially" because Congress hasn't passed any formal legislation making it so—but that doesn't need to keep you from celebrating this summer fruit with your family.
Fun Facts about Watermelons
Watermelons are about 92 percent water, so this is a great fruit to offer your child during summer months to keep him or her hydrated. This fruit has even been called "Bottled Water Nature's Way."
Summer is the best time to eat watermelons because their peak season is July through September.
This fruit can remain edible for months if kept cool, which makes it a good value.
Watermelons have existed for at least 5,000 years.
American author Mark Twain called this fruit "what the angels eat."
The world's heaviest watermelon, says Guinness World Records, weighed an incredible 350.5 pounds! It was grown in Tennessee in 2013.
Eating Watermelon
This fruit is delicious and nutritious all by itself. In fact, here is what WebMD says about how to explain the advantages of eating watermelon to your child:
Vitamin C helps your immune system. That's the one that keeps you from getting sick.
Vitamin A makes your eyes strong.
Vitamin B6 helps fight infections.
Vitamin B1 helps your body use food for energy.
If you discover that your child really enjoys this fruit, here's a great way to celebrate with a watermelon cake, and you might also want to consider watermelon "ice cream," where you simply place a big juicy ball of watermelon on top of an ice cream cone. You could always refrigerate before serving!
Or, if you're handy with a paring knife and your child likes cars, here's how to cut up a watermelon into the shape of a convertible—and then you can fill it with yummy "watermelon pieces, and accent with grapes, sliced peaches and nectarines."
Looking for a refreshing summer drink for your family? Here's a recipe for a delicious juice using watermelon, honeydew melon, cucumber, lime and mint.
WebMD offers some quick (and somewhat surprising) ways to fix watermelon, including:
With cinnamon sprinkled on top
Blended with cantaloupe and low-fat yogurt for a cool refreshing soup
With sherbet on top
Cubed with "crumbled feta cheese and a splash of balsamic vinegar. I know it sounds weird, but try it sometime."
Watermelon Crafts
Looking to entertain your youngster on a hot summer day? Here's an indoor craft where you simply print out a watermelon-themed template that your child can color. Help him or her cut out pieces as needed and glue the pieces together. Provide watermelon as a snack and ask your child to describe what it tastes like and why they're fun to eat.
Here's another one. Give your child half of a white paper plate, along with construction paper squares in red, green and black. Help him or her to glue them into a watermelon design.
Looking for more ways to enrich your child's life? Horizon Education Center provides affordable quality care including educational and enrichment opportunities for children in the following Northeast Ohio locations.