There are so many restaurants in Lorain, Ohio, it would be hard not to find one you like. But if you're thinking about taking the kids somewhere to eat in Lorain, you don't have to worry. There are plenty of restaurants they will love.
What's great about these places is that there are no chains. They're all local and would love to see your kids walk through their doors.
So, let's take a look at some of the best kid-friendly restaurants in Lorain, Ohio.
Kid-Friendly Restaurants In Lorain, Ohio
Papasito's Mexican Grill
Dodie's Dockside
Broadway Mary's
Chris' Restaurant
Gyros & More
Papasito's Mexican Grill
Papasito's Mexican Grill is going to be a hit as soon as you pull into the parking lot. Why? Because the kids are going to love the fact that it looks like a castle!
And if there aren't any castle lovers in your crew, then wait until they see the view of Lake Erie. It does not disappoint, and neither does the menu.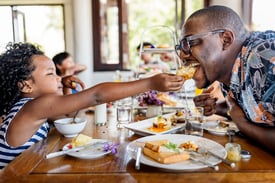 Papasito's serves all of the traditional Mexican dishes you'd expect, and the kids' menu does, too. But it also has burgers, fries, and a Mexican pizza, just in case your little ones aren't in the mood for an enchilada.
Dodie's Dockside
The menu at Dodie's Dockside has a little bit of everything. From burgers to pizza to spaghetti and meatballs, your kids are bound to find something that they like.
Dodie's is named after the grandmother of one of the original owners. And as the other half of the name suggests, it's located near the water and offers spectacular views of the Black River.
Broadway Mary's
Broadway Mary's doesn't have a website, but what it does have is a menu that caters to kids. They serve burgers and grilled cheese, along with an all-day breakfast.
The place also has a cool vibe. Lots of mariner memorabilia, and you may even get to sit in a cut-out oak barrel if you're lucky!
Chris' Restaurant
Chris Restaurant sits on the lake. So, you get great lake views. But it behooves us to tell you that this place is the home of the monster burger. It's not just family-friendly, but it's also family-owned. On top of that, they've been serving food there for over 50 years.
They not only can make every sandwich imaginable, but they have a long list of burgers and breakfasts, including a cheeseburger omelet on the menu.
Gyros and More
The name is not misleading. Yes, they have gyros, but it's only a fraction of the menu. When they say "and more", they mean it.
There are burgers, sandwiches, mushrooms, onion rings, wing dinners and cheese bites. But that doesn't even come close to covering it. The kids are going to love the menu and the restaurant itself. It looks like a house from the outside!
Horizon Education Centers Nearby
And all of these restaurants in Lorain, Ohio are located near Horizon Education Centers. We're happy to have six Lorain County locations, including our East Lorain Child Care Center and our before and after-school care at Lorain Community.
So, if you'd like to take the family out to eat after picking them up from one of our childcare or afterschool programs -- you won't have to drive far. And if you'd like a little more information on the programs Horizon offers, feel free to contact us at any time to schedule a tour.