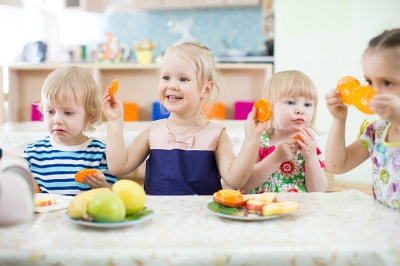 One of the best ways to get your child prepared for preschool, according to the U.S. Department of Education, is to "Provide nutritious foods, safe places to play, regular medical care and a regular sleep schedule." By doing all of these things, your preschooler will be rested, able to pay closer attention and otherwise get the most out of his or her preschool experience.
Having a steady routine helps preschoolers build confidence, and routines are so important for this age group that we recently dedicated an entire blog post to the subject. Read this post to find out more about establishing routines, as well as ways to build in some flexibility.
Healthy Eating
Get your child into the habit of eating a healthy breakfast. Hungry preschoolers struggle more with learning, while those who eat sugary breakfasts can display more hyperactive behaviors. It's well-established that preschoolers need healthy breakfasts, because well-balanced breakfasts help children "have better problem-solving skills, have better hand-eye coordination, be more alert, be more creative, miss fewer days of school and be more physically active."
As we've blogged before, fruits and vegetables are crucial for preschooler diets, leading to "improved nutrition, decreased obesity risk and better school performance."
Finally, it's important to teach your child the importance of healthy eating, so he or she learns to make quality choices. Some books that can help include:
Find more fun ways to reinforce healthy eating habits in this article.
Regular Sleep Schedule
According to KidsHealth.org, preschoolers need about 11 to 12 hours of daily sleep, which can include a nap. Creating consistent routines is key, and here are tips to help your child get into one. First, start a winding-down period about 30 minutes before bedtime, and give your child alerts then and about 10 minutes beforehand. Keep the bedroom quiet and comfortable and avoid giving any caffeine in the evenings.
Whenever possible, allow your child to choose his or her pajamas, take a favorite stuffed animal to bed and select the bedtime story. This will give him or her a sense of control while still keeping the routine in place.
Preschoolers typically need naps, since they tend to be active. So establish a napping routine, as well. Give your child the choice of actually sleeping or starting out in bed. Let him or her know that, if sleepiness doesn't happen, it's OK to quietly play in the bedroom during nap time.
Some preschoolers have trouble sleeping. If yours seems to struggle with falling to sleep or staying asleep, talk to your family doctor about strategies.
Horizon has even more tips about getting your child ready for preschool.
We invite you to visit Horizon Education Centers to discuss how we provide nutritional snacks, handle naptime and any other topics on your mind. We provide year-long learning enrichment opportunities at these northeast Ohio locations.