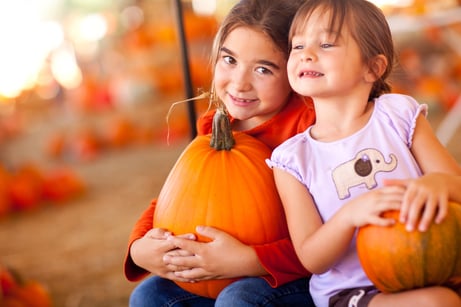 If you go to a coffee shop, you'll see people ordering pumpkin spice drinks — and maybe that's why you're there, too. Grocery stores are offering pumpkin-flavored items, ranging from sausages to potato chips, granola and yogurt, ice cream, salads and much more. So we thought we'd share kid-friendly ideas for your children to enjoy the autumn taste of this round orange fruit. (Yes, although you'll find differing definitions, the Mayo Clinic and other reputable sources say the pumpkin is technically a fruit.)
Kid-Friendly Pumpkin Treats
Parenting.com offers nine simple suggestions, including pumpkin snowballs (oatmeal, pumpkin pie spice, pumpkin puree, raisins and a bit of brown sugar). You can form them into balls and, if desired, roll in powdered sugar.
Another suggestion: Stir ¼ cup of pumpkin puree into a bowl of already-cooked oatmeal. Then you can top with cinnamon and honey. Read the article for seven more intriguing ideas.
Popsugar.com offers 31 recipes, including a glazed cupcake that is both vegan and gluten-free. Ingredients in the cupcake itself include cinnamon (optional), chocolate chips — and, of course, pumpkin. The glaze consists of brown rice syrup or honey, along with margarine or coconut oil, vanilla extract and the optional cinnamon.
And for chilly days, check out this black bean and pumpkin chili recipe.
Pumpkin Games and Songs
You can find all kinds of pumpkin games at KidActivities.net, from numerous races to . . . yes, pumpkin bowling. For a small number of children, you can collect 10 empty 2-liter soda bottles, rinsing them out and filling them with about a cup of sand per bottle. Line them up like bowling alley pins and then use a small pumpkin as the ball. The article doesn't say this, but we'd get more than one pumpkin, just in case one gets smashed.
When you're done, if you've got Mr. Potato Head game pieces, your children can use them in the small pumpkins for another enjoyable game.
To add elements of science, have your children guess how much each pumpkin weighs, then test it out. Here's another activity: Fill a storage container with water and ask them if a pumpkin would sink or float. Again, test it out — and, when they ask you why it floats, you can explain it's because pumpkins are hollow, filled with air.
EverythingPreschool.com provides pumpkin-related words that can be sung to familiar tunes. Encourage your children to create relevant movements and dance steps to accompany these songs.
Pumpkin Printables
With one quick click, you can find a significant number of printable pumpkin activities for your young child. This site provides pumpkin-themed coloring pages where children can learn their letters and practice basic math. There are also age-appropriate puzzle and dice templates, along with a "What Comes Next?" game. Your child will be asked to color a jack-o'-lantern that's happy, one that's sad and one that's angry, as well as coloring pumpkins in many colors.
Looking for more ways to enrich your child's learning and life? Horizon Education Center provides affordable quality care, including educational and enrichment opportunities for children in the following Northeast Ohio locations.