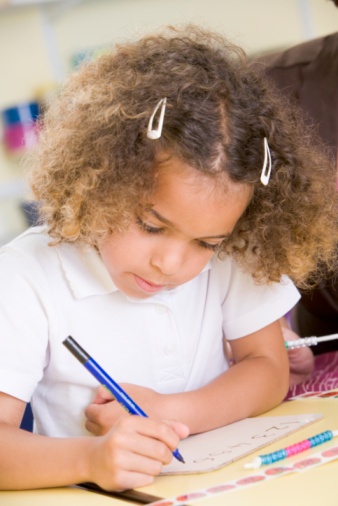 Having math skills is necessary for adults in today's world. That's how we figure out how to pay our bills, determine how much flour to put into a bowl to make a cake, and just how far we have to go to get to our destination.
Becoming proficient at math at a young age is a good thing, too. As young children learn math skills, their brains are actually changed, helping them solve other problems, as well. A study in the Development Psychology journal states that the level of math skills in kindergarten is an even stronger predictor of later achievement in school than reading ability or levels of focus.
Your Attitude and Actions
As a parent, you play a key role in developing a positive math attitude in your preschooler, so avoid saying things like, "Math is hard" or "I really hated math." Overall, young children whose parents talk to them about numbers tend to have better math skills at the age of 4 than those who don't hear math talk. And children naturally learn more easily when concepts are presented as fun, rather than as something scary or as a chore—and so, the more you can offer your child fun learning activities, the better.
"The secret to successful math education," says RaiseSmartKids.com, "is to make it so much fun that children don't even realize they are learning something that will help them later in life."
Making Math Fun
Read enjoyable books that have mathematical themes, such as Big Fat Hen by K. Baker, where the hen lays eggs in sets of two, up to the number 10. This book introduces math concepts such as "number comparison, object grouping, addition and subtraction" in a fun way. Other books recommended by RaiseSmartKids.com include:
Find more book recommendations here.
Education.com provides a variety of fun online math games for children ages 3 to 7, including:
Castle Measurement: Your child will hunt for items at the castle, following clues such as big, small, empty, full, heavy and light.
Counting Pizza Party: If your child loves pizza, he or she will enjoy deciding what kind to make, putting together pizzas with toppings of choice. Then, he or she must make pizzas with toppings as requested by customers.
Create Mosaics with Shapes: If your child needs a break from determining right and wrong answers, click on this game so that he or she can make cool mosaic designs by dragging and dropping shapes and by using an arrow to rotate designs.
Be sure to also incorporate math into everyday activities around the home. Let your child help you assemble ingredients for a meal: two eggs, 1 cup of milk and so forth. When you bring up a basket full of socks, let your child help you pair them up—and then count the number of pairs that you made. Walking up the steps? Count them as you go!
Looking to enrich your child's learning and life through math games and other effective methods? Horizon Education Center provides affordable quality care including educational and enrichment opportunities for children in the following Northeast Ohio locations.