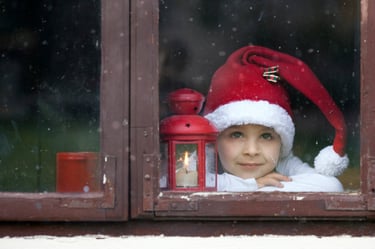 By now, stores are filling up with Christmas decorations, pumping in holiday music and stocking shelves with toys sure to make your child's eyes light up. It's enough to make anyone eager for Christmas to arrive—and it's even harder for young children to wait patiently.
If, though, you are frustrated by the commercialization of the holidays, you're not alone. So here are tips on how to manage your preschooler's holiday expectations and to put the focus where you believe it belongs.
Setting Context
Here's a great video where a mom shares how she told her 4-year-old son that Christmas is a time to give, not just to receive. Think of everyone you love, she told him, and think about how to give each one something special. She also told her son that each gift represents love and thought—and that's a gift all by itself.
This mom explained to her preschooler that holidays are about the experiences you have, not just the "stuff" you get. So, using her example, make decorating the tree part of the experience. Make creating care packages to give to people in need part of the experience. Make fun gag gifts—for example, reindeer socks—part of the experience.
Managing the Budget
For older children, discuss your budget, letting them know what the family can afford and asking them to make gift requests within that budget. Younger children, especially those who look forward to Santa Claus, won't have that same understanding. One article suggests that you tell your preschooler that, as parents, you help Santa Claus with more expensive gifts and then direct what they ask from "Santa." Decide whether you're comfortable with that approach.
If you are no longer in a relationship with your child's other parent, but both of you still parent the child, try to come to an agreement about how much you'll each spend on gifts to avoid a competition with each other.
Examine Your Motives
Dr. Aaron Cooper, a licensed clinical psychologist at the Family Institute at Northwestern University and author of I Just Want My Kids to Be Happy, says working parents are at risk of overcompensating with gifts to soothe feelings of guilt from being away from their children. But over-giving sends the wrong message and expectation management is crucial around the holidays because children are "susceptible to unbridled consumerism. 'I want, therefore I am' is one ethic of contemporary childhood," one you want to avoid, Cooper says.
He offers three suggestions:
Let your children know there is a limit to the number of gifts they receive, so they should focus on asking for what's most important.
Reinforce how holidays are a time for children to give as well as receive.
Teach proper etiquette, such as how to express appreciation—even if the gift wasn't what was hoped for.
Religious Considerations
For many families, Christmas and Hanukkah are important religious holidays. If this is true for you, be sure to take your children to religious events associated with what you celebrate, read age-appropriate faith-based stories to them, and offer opportunities to do crafts that are fun yet emphasize the message and so forth.
Looking for more ways to enrich your child's learning and life? Horizon Education Center provides affordable, quality care including educational and enrichment opportunities for children in the following Northeast Ohio locations.