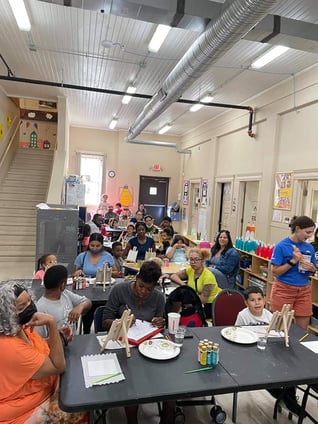 One of the best ways for you and your child to connect with Horizon Education Centers is by attending Family Night.
Family nights are designed to not only provide you with the opportunity to meet your child's teacher, but it also gives you the chance to see what your child's daily routine will be like, meet your child's friends and more.
Our educators will be there to answer any questions you may have and show you around the center, particularly your child's classroom. You'll get to walk through your child's daily activities, see their desk and more.
Family Night offers many other benefits, too, including:
You can see what sets your center apart from others.
You will get a sense of the Horizon Education Centers value and mission, and how we aim to execute that mission.
You can learn about parent-teacher conferences and how the school communicates and informs you about your child's educational progress.
You will get a feel for if your family would be a good cultural fit.
Don't miss out on this opportunity to connect with your child at Horizon Education Center's Family Nights! Check out our list of dates and times to find your child's center.
Horizon Education Center Family Night Dates and Times
South Elyria - September 2 at 6 p.m.
Cascade - September 3 from 4:30-6:00 p.m.
Southside - September 3 from 4:00-6:00 p.m.
Triskett Station - September 15 from 4:30-6 p.m.
Lakewood - September 16 from 6:00-7:00 p.m.
Elyria-Dewhurst - September 22 from 4:30-5:30 p.m.
North Olmsted - September 23 from 4:30-5:45 p.m.
Old Brooklyn - September 23 from 4:40-6:00 p.m.
East Lorain - September 27 from 6:00-7:00 p.m.
Market Square - September 29 from 4:30-6 p.m.
Berea - September 29 from 5:30-6:30 p.m.