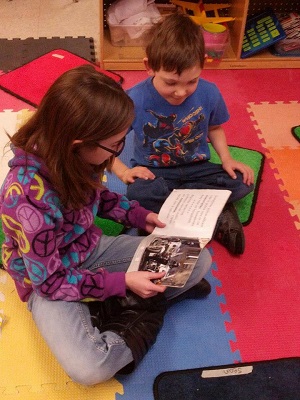 Books and reading are essential to child development and early learning. By activating and exercising various areas of the brain, reading to your child at least 20 minutes a day boosts learning development.
Reading with your child offers many benefits:
Reading aloud is the single most important activity in literacy.
It builds word-sound awareness, leading to success in a child's acquisition of reading skills.
Reading secures early reading skills.
Such as the distinction of words from images and the understanding that text is read from left to right.
Reading promotes academic excellence.
Children exposed to reading before preschool have a higher aptitude for learning, increasing their success in all facets of education.
Reading builds speech and communication skills.
Educational programs that encourage reading help your child more easily grasp the fundamentals of language, increasing their vocabulary and enunciation. Stories help children understand how people interact. Collectively, these skills enable your child to communicate far more effectively.
Reading fosters logical thinking.
It cultivates good judgment, helps children recognize cause and effect, and grasp abstract concepts in order to apply them to their own world.
Reading enhances concentration and discipline.
By learning to be still and quiet during reading activities, attention spans are stretched.
Reading improves adaptability.
Taking the stress out of new experiences by introducing them in a non-taxing fashion.
Reading strengthens relationships.
Snuggling up to a book offers a great one-on-one, nurturing activity you and your child can share.
To learn more early learning tips for your child, contact Horizon Education Centers. Horizon offers high-quality, affordable after school and educational programs for the development of your child, conveniently located in Cleveland, Elyria, Lorain, North Olmsted and Ridgeville.