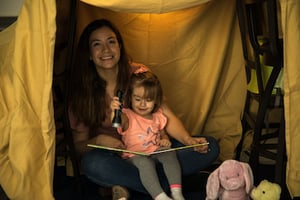 The coronavirus has closed schools and many businesses across Ohio, and with the stay-at-home order from the Ohio Department of Health, you might find yourself and your children feeling even more cooped up than before. Since you can't go out, what can you do? Here are a few simple and fun — and educational — ways to pass the time at home with your children.
Make a Fort
Have any extra boxes from Amazon packages or diapers lying around? Encourage your children to use these items to make a fort. Get creative and decorate with crayons, paint, glue and anything else you have around the house. If you don't have boxes, you can spread a sheet across chairs or other furniture.
Read a Book
Reading helps your child develop phonics skills and is a great way to spend time together. If your child is old enough, help them with their reading exercises by reading a book together. Print out a free reading log here.
Use the Windows
If you have dry erase markers, try writing math problems or spelling words on your windows. For younger children, try drawing or writing letters.
Get Outside
The colder temperatures and the closure of playgrounds can make the idea of going outside less than appealing, but there's still plenty to do outdoors. Take a walk together and notice what you see. Talk about the animals that live outdoors and the types of trees you see. See how fast your child can run around your house or down your block. Play outdoor games like hopscotch or foursquare or simply draw on the sidewalk with chalk.
Virtually Tour a Museum, Zoo or National Park
The Cincinnati Zoo live streams its animals every day at 3 p.m. and the Cleveland Zoo is offering free classes for children online. The Akron Zoo also hosts Lunch and Learns on Facebook Live every day at noon. Though playgrounds are closed, parks are still open. If you don't have a park in your area or want to visit a national park, you can tour these 33 national parks virtually. The Boston Children's Museum also offers virtual tours.
Stream Movies
You've heard of Netflix and Hulu, but did you know you can stream films and documentaries for free from the Cleveland Public Library? The streaming services feature content for adults and children and are free with the use of your library card.
Do Science Experiments
Teach your kids about science by doing experiments like a baking soda and vinegar volcano or do experiments at home with Bill Nye the Science Guy.
Make a Family Tree
Learn more about your family history by creating a family tree. Draw the outline of a tree, create leaves and attach family member's names to each leaf.
What other activities are you doing with your children? Share them below to inspire other parents!