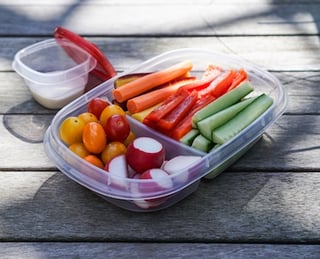 When your child comes home after school, he or she is likely to say, "Hey, I'm hungry! What do we have to eat?" And, depending upon how hectic your day has been, it may be tempting to offer your child whatever snack is easiest to provide. That's only natural. We put together a list of four after-school snacks that are quick and convenient — but are also healthy and easy on the budget.
Rainbow Snacks
Parents.com offers 15 suggestions, starting with Rainbow Snacks. With Rainbow Snacks, you can offer a variety of fruits and vegetables in an array of fun colors, from bright orange carrots to purple grapes, crisp green celery to a yellow banana. This makes snack time more fun and has an important health benefit; when your child consumes fruits and veggies in different colors, they're also getting a wider range of the nutrients needed for good health. This article by HealthyEating.SFGate.com offers more specifics about fruit and vegetable colors and their associated health benefits. And, because you can mix and match what you include in Rainbow Snacks based on what's available in your cupboards and refrigerator, you won't have to run to the store because you're missing a crucial ingredient.
Toast Animals
Another option suggested by Parents.com: Toast Animals! You simply toast some bread, let your child cut them into animal shapes via cookie cutters and then add healthy toppings — perhaps peanut butter or cheese. Once again, you can use ingredients you already have at home and this snack allows your child to be creative, as well.
Hot Pink Smoothies
Cooking Light recommends this Hot Pink Smoothie recipe, found at MyRecipes.com. Because you're using frozen fruit, you don't need to add ice. You take 1 cup of frozen, unsweetened raspberries and 1 cup of frozen, unsweetened strawberries, and put them in the blender. Add a cup of orange juice and half a cup of plain 2% reduced-fat Greek yogurt. To add more sweetness, you can also add 2 tablespoons of agave syrup. Blend together — and you're done. If your child prefers a different type of fruit or if that's what you have on hand, replace as desired (and, if the smoothie ends up a different color than pink, just rename it as needed).
Honey-Roasted Nuts and Fruit
Is your child in the mood for a bit of crunch? This healthy treat is simple to make, nutritious and delicious. You first line a baking sheet with foil and then spray it with cooking spray. Then, heat a teaspoon of butter in a large nonstick skillet, mixing in a quarter cup of honey. It should take about two minutes for your mixture to bubble around the pan's edges.
Then mix in these nuts:
1/4 cup slivered almonds
1/4 cup chopped hazelnuts
1/4 cup chopped pecans
1/4 cup sunflower seeds
Add the following spices:
1/2 teaspoon ground cinnamon
1/4 teaspoon ground cardamom
1/4 teaspoon salt
Dash of ground cloves
Cook over medium heat for eight minutes (or until the nuts are a nice golden color); you'll need to stir often. Add a cup of raisins, immediately placing this mixture onto your baking sheet. But, you won't be doing any baking. Just use this sheet to let your treat cool enough for your child to enjoy.