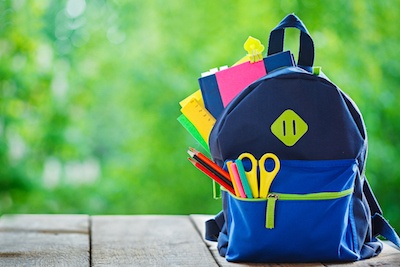 Summer break is winding down and it's getting close to back-to-school time. Some children transition easily from time off in the summer to the school year, while others need more help. In either case, here are four back-to-school tips to prepare your children . The first two tips are relevant for children who are entering preschool through elementary school. The next two are more age-specific.
Student Records
The U.S. Department of Education reminds parents of activities that should be in process now, including scheduling medical appointments your child needs for school purposes. If your child needs his or her immunizations updated, for example, make the appointment now. You can find more information and resources about vaccinations at the Ohio Department of Health website. Are you applying for any health or nutrition programs, such as the National School Lunch Program? If so, now is the time to get organized.
Special Prep for Preschoolers
Some preschoolers are very excited about going to school like the big kids, while others may be more hesitant. There is an entire range of possible reactions and the majority them are completely normal. What's crucial is to get your child into the right environment for learning and growing — and this article from Inside.AkronChildrens.org provides helpful tips on how to choose the right preschool for your child. One of them is to meet your child's teacher before committing to a particular preschool.
Watch:
How the teacher interacts with the children
How the children respond to him or her
If the children seem generally content
Ask the teacher:
About a typical day and what it would entail
About how he or she would handle specific situations, such as:
Your child cries in the morning
Another child is hitting or biting
Toilet training slips
Temper tantrums
By observing the teacher and the classroom, and by asking questions, you should be able to determine how well classroom situations are handled, and what the general environment and philosophy is like. "If the teacher appears defensive, uncomfortable or uninterested while replying, that could signal future communication problems and may mean that the teacher and preschool aren't right for your family."
Feeling Prepared in Elementary School
KidsHealth.org offers quality suggestions for helping your elementary school child transition back to school, with the linked-to article written directly to the child (rather than to the parent). Elementary-school-aged children make better transitions, information in the article suggests, when your child remembers friends that he or she misses from school and looks forward to seeing them again. Other ways for your child to feel better on day one of school include:
Wearing a special outfit
Wearing a favorite headband, piece of jewelry or watch
Having all the school supplies needed, ones that are well organized
Bringing a book along on the bus if that's enjoyable
Packing everything the night before so the morning goes smoothly
Preparing for lunch, whether that means having money or a packed bag