Horizon's Shoreway Center offers enrichment programs for children 18 months to 12 years of age.
The nearly 9,500-square-foot building sits on nearly 72,000 square feet of land. Some of its features include:
One toddler classroom
Two preschool classrooms
Four classrooms for school-aged children.
One outdoor classroom
A bike trail doubles as a walking trail and winds its way around our three age-appropriate playgrounds: one for toddlers, one for preschoolers, and another for school-aged children.
There's also a water table area for the kids to play in on hot summer days.
We develop language and literacy, as well as social, emotional, and physical skills. Our staff members guide their students with various teaching methods that are based on recommendations from the State of Ohio, including:
State Standards
State Assessments
Individual Learning Plans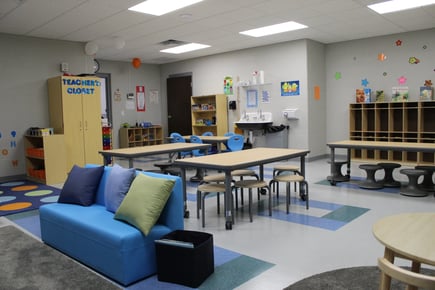 Horizon Education Centers focuses on kindergarten readiness and school-age enrichment, and we're a proud partner of Ohio Healthy Programs, ensuring that your children have healthy food options daily.
We're excited to collaborate with the Invest In Children Program, providing a high-quality preschool experience for the families and children we serve.
Whether you're looking for child care, preschool programs, before – or after-school programs, or summer camp—Horizon Education Centers has it all.
The Shoreway Center shares the same operating hours as the rest of our centers, 6:30 a.m. - 6:00 p.m. for childcare and education.