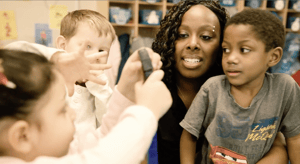 Do you want to make a difference in the lives of children? Horizon Education Centers is committed to providing enrichment and educational opportunities to children in our communities, but we couldn't do it without dedicated professionals like you.
We're hiring dedicated professionals who love working with children to join our team. If this sounds like you, take a look at our open positions and apply.
Working at Horizon
In addition to giving you the opportunity to positively impact the lives of children, Horizon provides:
Health and medical insurance for employees working 30+ hours a week
Tuition reimbursement, trainings
403(b) retirement savings program
Paid pre-employment screenings
Discounted child care
Paid holidays
New employees receive 3 extra personal days to use before 2020 ends
Retention Bonus Program: For every hour you work, Horizon will pay you $1, with bonuses being paid out twice a year
"Horizon lets you do whatever you want curriculum-wise as long as it's following the standards, which is amazing because each child has different needs. I enjoy going to work every single day," said Breanna Enderby.
Outside of work, Horizon offers fun activities for employees including an annual Christmas party, birthday parties and a summer picnic.
"Horizon's culture is amazing. I feel like I can go to my director with anything I need, I love my boss," said Enderby "You're appreciated more than you can ever dream of. It's an amazing place to work."
Horizon also gives you the opportunity to climb the career ladder.
Center Director Teria Bivins came to Horizon with a business degree and experience mentoring children and within four years worked her way up to a center director position.
"Horizon is great," Bivins said "They paid for my promotions. I started out as a coordinator and then got promoted to director. Try Horizon. Start here. You definitely can work your way up. You can get there through Horizon."
Ready to join the Horizon team? Apply now.