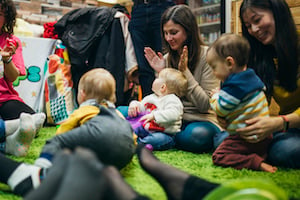 "The environments infants and toddlers encounter, the relationships they form, and the activities they engage in before age 3—both inside the home and out—are key to healthy and positive growth, development, and learning outcomes that can last a lifetime." (National Association for the Education of Young Children)
A strongly recommended practice for children, from the infant stage and up, is a community of care—or COC—which means that children have consistency in their caregivers for a length of time, perhaps two to three years.
The NAEYC shares key benefits of this practice, including:
Teachers have the ability to deepen their knowledge of each individual child, including the youngest.
They will also gain a more thorough understanding of each child's growth through the early years and up.
The child and their family will experience less stress because they won't continually be breaking relationships and starting all over with a new caregiver. This will also decrease stress for the caregivers.
COC smooths out the path of a child's progress and allows them to bond more securely with caregivers.
Overall, COC creates a family-like bond between the family and the staff who cares for their children. Children who experience COC typically display fewer behavioral problems and experience an easier transition to preschool.
One long-term study in France followed nearly 1,500 children from birth to age 8 who attended daycare at a young age, with one child psychology/associate professor having this conclusion: "The evidence is clear that high quality, early childhood care is beneficial for children. These programs include not only play and socialization, but also educational and nutritional components from highly-trained early childhood education professionals."
Then there's the Abecedarian Project, an American study from decades ago. In this study, children were in quality child care from birth on, and science has shown that these kids—adults today—still benefit from this care.
Yet another study, one published in the Journal of Epidemiology & Community Health in 2018, demonstrates how children who attend child care at a very young age benefit socially.
Choosing the Right Infant Care
Infant care experts recommend selecting a center that puts safety first. This includes when infants will be napping. Will teachers be able to watch babies every moment, including when asleep? How will your infant be put into the crib? How will babies be positioned in cribs for maximum safety? What, if anything, will be allowed in the crib with the infant?
Check to see how the center is licensed and accredited. Will the care provided fit your baby's and family's schedule? Although a baby's schedule cannot be completely predicted with certainty, a quality center will work with you to keep your infant on the appropriate routine.
Pay close attention to cleanliness, as well. When your baby is ready to crawl, what tidy spaces are available? How much time will your baby spend with caregivers? How and when will the caregiver communicate with you about how your infant is progressing?
Quality Infant Care at Horizon Education Centers
At our centers, we take a well-rounded approach to child care, and in infant care, each child is assigned a primary caregiver. This provides the COC that has been shown to be so important and allows your infant to receive unique experiences and tailored care.
We provide a creative curriculum with engaging experiences in sensory-rich environments. We make developmentally appropriate toys available and otherwise provide quality care by experienced teachers who care about your infant and their development.