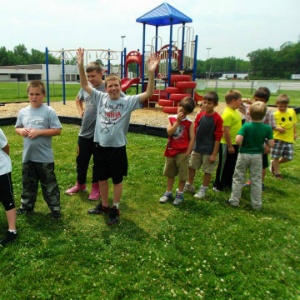 Because of the beautiful sunny weather, children often spend more time outdoors in the summertime – a perfect time to ride bikes, run races, play hide and seek and more. There are, however, precautions that you should take to help your child have a safe and enjoyable summer.
One important tip is to make sure your child drinks enough water. Here are more important tips:
1. Protect your child from sunburns
According to the Centers for Disease Control and Prevention (CDC), just a few serious sunburns can increase a person's chance for skin cancer later in life. Tips to protect your child include:
Use sunscreen with at least SPF 15 – along with UVA and UVB protection – when your child goes outdoors, even if he or she won't be at the beach or pool. Apply generously, ideally 30 minutes before going outdoors, also applying to ears, noses, lips and tops of feet.
Put a hat on your child that shades the face, scalp, ears and neck.
Keep your child indoors during the hottest parts of the day or plan activities in the shade during those hours.
2. Be prepared to appropriately treat insect bites and stings
WebMD offers practical tips about how to remove a stinger, if applicable, and how to clean and treat the injury. Times when you should consult a doctor – or sometimes even call 911 – include if your child:
has been bitten or stung multiple times.
has "sudden hives, swelling in the face, difficulty breathing, dizziness, or fainting".
has previously had an allergic reaction to a sting or bite.
was bitten or stung near the mouth.
has an affected area that is getting larger or redder, or is oozing, as that can indicate infection.
3. Insist on helmet usage
Whenever your child is riding a bike or scooter, or is skating, skateboarding or doing anything else on wheels. Make sure that the helmet is appropriate for the activity and fits well.
And so are these water safety requirements. Whenever your child is participating in water-related activities, supervision from a responsible adult is necessary 100% of the time. No exceptions! An adult should be within one arm's length of the child whenever he or she is in or near water. Note, too, that "water" exists in "bathtubs, toilets, buckets, baby pools, backyard swimming pools, community pools, streams, creeks, lakes, rivers, oceans and other places."
Teach your child how to swim.
Fit your child with a life jacket and use whenever appropriate.
If you have a pool at home, surround it with a four-sided fence.
Learn cardiopulmonary resuscitation (CPR).
Keep a well-stocked first aid kit within reach
You can purchase a pre-made kit from drug stores or from online venues, and then personalize it with contact information of your pediatrician and health insurance plan, plus details about your child's allergies. Or you can make your own kit from scratch to save money. If your child needs emergency medications, perhaps for a bite, be sure to keep some in the kit – and check the kit often to make sure all is up to date and that no prescription medicine has expired.
It's also crucial to choose the right summer program for your child and we'd love to talk to you about your needs.