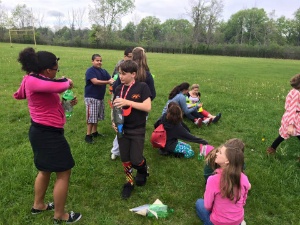 When deciding to send your child to summer camp, you'll likely factor in practical factors as well as some social ones. And, here's one of the most practical reasons to send your child to summer camp: you need to work to support your family and you want your child to be in a safe, educational environment. So, you might as well choose someplace where your child can also have a fun adventure!
Here are more reasons why sending your child to summer camp makes good sense.
It helps them explore hobbies and develop passions
Camp can also help children explore activities that could turn into lifelong hobbies – or even passions. In fact, here's a fun video that shows what some actors, musicians, journalists and more remember about their summer camp experiences. What passion might your child develop? An enjoyment of hiking and/or running that leads to her building athletic skills and developing healthy exercising habits? A love of nature that causes him to become a biologist? What else?
It broadens their experiences
Summer camp can also broaden your children's horizons (pun not intended!). Maybe you love going to museums but the thought of going to a waterpark makes you queasy – or maybe you love to play football but were born with two left feet when it comes to dancing. It's only natural that you'll introduce your children to the activities that you enjoy and skip over those that you don't. But, at summer camp, your child can experience a wide variety.
At Horizon Education Centers' 2019 summer camp, activities include field trips to the following locations:
African Safari Wildlife Park

Seneca Caverns

Cleveland Botanical Gardens

And plenty of hands on science, math, art, and learning and more
They'll enjoy educational activities in art, science, technology and more. Kid's Clubs are available for gardening, dance & cheer, service, flag football, building & engineering, arts & crafts, fitness and walking. Where else can your child sample all of those activities?
To quote Peter Scales, Ph.D., in an article on the American Camp Association site, "Camp is one of the few institutions where young people can experience and satisfy their need for physical activity, creative expression and true participation in a community environment. Most schools don't satisfy all these needs."
They unplug from technology
While technology is useful and entertaining, it's also great to sometimes unplug. You don't have to look very far online to find articles sharing how children are spending too much time staring at screens and not enough with family, with physical activities and the like. In 2010, the New York Times published article with this title, If Your Kids Are Awake, They're Probably Online.
And, ready for this? "Those ages 8 to 18 spend more than seven and a half hours a day with such devices, compared with less than six and a half hours five years ago, when the study was last conducted. And that does not count the hour and a half that youths spend texting, or the half-hour they talk on their cellphones.
"And because so many of them are multitasking — say, surfing the Internet while listening to music — they pack on average nearly 11 hours of media content into that seven and a half hours."
In fact, Steve Jobs was quoted in a New York Times interview as saying his children didn't use the iPad because he limited their time using technology!
Again: technology is NOT bad within proper boundaries – and summer camp is a fun way to unplug, socialize with other children, visit exciting places, and try new activities and more.
It's hard to believe, but true: summer is just around the corner. We'd love to talk to you about your summer camp needs!