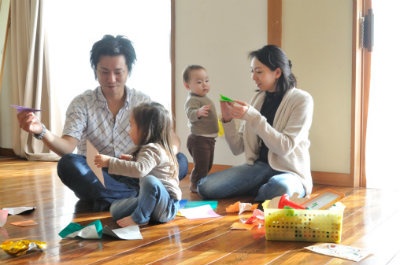 A study conducted by the prestigious Harvard Family Research Project shares the importance of family-centered day care programs. Titled Family Involvement in Early Childhood Programs: How to Choose the Right Program for Your Child,this study is not new – but its findings are crucial and we at Horizon Education Centers fully support family involvement in all of our child care programs, ranging from toddler care to afterschool care for elementary school students. .
We'll provide a summary of report highlights and then share our family-centric philosophy.
Report Highlights
"The extent of your family's involvement in your children's early childhood program makes a big difference in how well children adjust and how much they learn. When families take part in their young children's education programs, children do better in school, and the quality of their education can improve."
Family involvement is crucial because that means parents and caregivers work together with teachers to build the optimal environment for learning, both in the child care setting and in the home. Family involvement can take many forms, including seeing yourself as a customer — and therefore providing customer feedback about what you like about the child care program, what questions and concerns you have, and how it can be improved. This can come in the form of being on a parent advisory board or something more informal.
You can also support the program, perhaps by volunteering. This could involve reading to the children or helping with snack time. If your work schedule prevents you from actively participating in the classroom, you could provide healthy snacks when appropriate, tell other families about the program and more. And, because each child is unique — and you know your child better than anyone — you can provide relevant information about him or her to the teachers.
The report also shares useful information in choosing a program that promotes family involvement. When talking to the director of a child care program, be open about your desire to become involved and ask what opportunities that program provides. If the director doesn't seem enthusiastic about your involvement, this program is highly unlikely to be family-centric. Here are more questions to consider:
Does the director and staff seem open to hearing your ideas?
Do they provide any feedback on what specific activities are available to the family?
Are there are any written materials available on this subject?
If you would need to talk about your family's needs with the director, are there times available that don't clash with your work schedule?
How will the staff communicate with families to let them know about programs? How you can work with your child at home to complement what is being taught in the child care setting?
Are there conference times available? If so, when?
Will you be informed about what your child did each day?
Will the center help you find resources to use at home?
Can you chaperone field trips?
Horizon Education Centers: Family-Centric to the Core
Here are just some of the ways in which we encourage family involvement:
We provide Family Nights to enjoy together, along with a wide range of volunteer opportunities and regular parent/teacher conferences. You can connect with us on Facebook, where we share plenty of useful information and fun photos. We even offer discounts and referral bonuses. If you're ready to talk about our exceptional before and afterschool education programs, please give us a call at 440-779-1930 today!