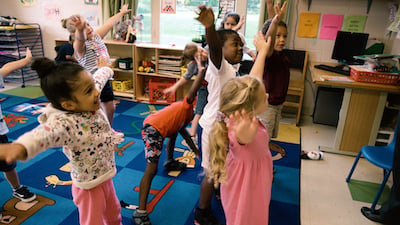 Even if their worries are smaller, children can experience stress just like adults. And in the same ways that yoga can help adults decompress and work out that bad energy, we've found it works for children, too.
Horizon Education Centers now has 112 staff members trained to practice yoga with children through a program called Yoga 4 Classrooms. As a result, our teachers have seen an increased ability to manage student behaviors in a positive and productive manner. We've also been able to better manage high and low energy levels in the classroom.
In a world where children are constantly competing, whether it's during sports, video games, gym class or even for attention, yoga can help them center themselves, calm their thoughts and develop a sense of compassion for their fellow classmates. Yoga is a non-competitive physical activity that will foster a sense of cooperation and help build self-esteem.
There are both physical and mental benefits of yoga for children, including (but not limited to):
Developing a strong and flexible body
Increasing balance, body awareness and coordination
Improving posture and alignment
Improving digestion, circulation and elimination
Strengthening the immune system
Relaxing the body, promoting better sleep
Relieving tension and stress
Increasing concentration, focus and attention span
Promoting thinking and memory
Stimulating auditory processing and responsiveness
Expanding imagination and creativity
During our sessions, we use different yoga poses to achieve different results. For example, Flying Bird Breath focuses on finding your center and your focus. Magic Massage helps relieve tension and focuses on self-care. We also use breathing techniques such as Gratitude Relaxation pose where we ask the children to think about something they are grateful for and let their heart expand as they inhale and exhale.
"Implementing Yoga 4 Classrooms gave the teachers an additional tool to use with the children in regards to building their self-awareness and self-control," one teacher said. "The students look forward to it. It helps calm them, and it helps them focus throughout the rest of the day."
To learn more about yoga for children at Horizon and other programs we offer, schedule a tour today!