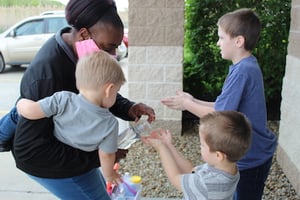 Horizon's new hours of operation are 6:30 a.m. to 6 p.m. Monday through Friday.
We will be flexible as schedules change. If you need to drop off or pick up your child at a different time, just let your center director know.
These new hours of operation allow for the cleaning and sanitizing of each center.
When you drop off your child, staff will conduct a healthcare screening before they enter the building. Once your child leaves your vehicle, they will receive hand sanitizer before entering the building and then wash their hands once they arrive at their classroom. Parents are not permitted to enter the buildings at this time.
The healthcare screening will include:
Health questions about symptoms
Temperature checks
Looking for signs of visible illness
Temperature checks will occur at drop off and after lunch.
If your child is ill with COVID-19 or another illness, they will need to be fever-free without the use of medication for at least 24 hours before they can return to Horizon.
Safety and Social Distancing Procedures
All Horizon employees are required to wear masks and long-sleeve shirts. Children are not required to wear masks, but if you would like your child to wear a mask, they can do so.
Staff is required to wash their hands after the following activities:
Upon arrival, returning from breaks or returning from being outside
After using the restroom or assisting a child with toileting
After changing a child's diaper
After using cleaning or sanitizing products
Before eating, serving food or feeding a child
Before departure
Children are not permitted to bring anything from home including water bottles. Cups and water will be provided at the center.
If your child becomes sick while at a center, staff will:
Attempt to put a mask on your child
Relocate your child to the staff lounge where staff will monitor them until they can be picked up
Ask you to pick up within an hour. If your child is not picked up within 60 minutes, your child's spot in the program could be relinquished
Send home any belongings to be laundered
Children will be encouraged to remain socially distant in their classrooms. Any soft items like puppets, dolls or pillows that cannot be easily sanitized have been removed from classrooms.
Your child will be kept with the same teacher throughout the day and napping cots will be spaced 6 feet apart. All field trips have been canceled.
If you have any questions about our COVID-19 procedures and safety measures, please contact your center director. To see our full video on opening procedures, click here.