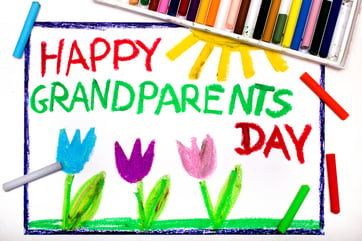 Marian McQuade is recognized as the founder of National Grandparents Day. She wanted young people to understand the importance of older adults and their contributions to society. In 1977, congress requested that President Jimmy Carter proclaim the first Sunday after Labor Day as National Grandparents Day. President Carter followed through on Aug. 3, 1978, and the day was first celebrated in 1979.
NationalToday.com also gives kudos to nine-year-old Russell Capper who wrote to President Richard Nixon in 1969 to request a day to celebrate grandparents. He got a response from the president's personal secretary who let Russell know that his idea was appreciated, adding that it typically takes a congressional resolution for the creation of a day like that.
So, this post recognizes Marian McQuade and Russell Capper and shares seven ways to celebrate this special day.
#1 Interview Grandparents
This would be a great day for grandchildren to "interview" their grandparents, asking them questions about what life was like when they were young. The kids can take notes and/or record the conversation in person or by phone, Skype or Zoom. One grandmother said that her grandchildren were "amazed" that Grandma didn't have a television set in her home when she was young.
#2 Create a Handmade Card
The site also suggests that children create handcrafted cards for their grandparents. Parents can provide kids with colorful construction paper, crayons, paint, stencils, magazines to cut up, scissors, glue, and so forth. As another variation, parents and children can work together to paste a family photo onto a piece of cardboard, which is then cut into pieces. All can be mailed to the grandparents with a note asking them to put the puzzle together to see who loves them. Plus, Scholastic.com provides a downloadable Grandparents Day picture that children can color and send.
#3 Make an "I Love You" List
Parents.com recommends that children create a list of all the reasons they love a grandparent and then either read the list out loud to Grandma and Grandpa or mail/email the list.
#4 Participate in Hobbies Together
This article also suggests that grandchildren enjoy their grandparents' favorite hobbies with them — whether that's bocce bowling, baking, fishing, or arranging flowers, the children can learn a new activity while grandparents can have fun teaching them about what they love.
#5 Sing Together!
Plenty of songs have been written for Grandparents Day, including these. Grandparents and grandchildren can listen to and sing them together. Depending on how comfortable everyone feels, the songs can be performed for family members that day.
#6 Hold a Game Day
The special day can be celebrated with a simple meal and a board game — or a card game or puzzle. Whatever brings enjoyment! Families can also use this time to look at old photographs together and to share stories of past get-togethers.
#7 Put Together a Family Tree
You can gather family pictures together and label them on the back with names, dates and any other important information. This tree can be as simple or in-depth as you'd like it to be. The goal is to enjoy spending time together and talking about family while creating a memorable keepsake.
Mix and match these activities as desired and then enjoy! This year, Grandparents Day is this coming Sunday. Enjoy the time shared among several generations.