As you keep your children engaged during the coming months, it can make sense to strategically use screen time by providing them with educational apps for kids that make learning fun. Here are three recommendations.
ABCMouse
GoodHousekeeping.com has named ABCmouse.com as the best overall app for kids, calling it an "overwhelming favorite among all of our testers." This app provides more than 850 lessons over 10 levels, with your child guided to the next level after completing a lesson — and rewarded for progress. Curriculum areas covered in engaging ways include:
Reading and Language Arts
Math
The World Around Us (science and social studies)
Arts and Colors
Children can learn through games, books, songs, puzzles, art, and printables, with parents able to track their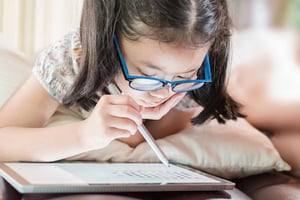 progress. And, as your child completes an activity, he or she receives tickets that can be used to earn virtual items, such as new fish for the classroom. Math skills are taught as children earn and spend reward tickets.
Your child can create his or her own avatar character from a wide range of features and outfits, with additional avatar items available in exchange for tickets.
Other engaging features include a zoo, where children can interact with animals and learn about them through games, books, and so forth—and an interactive farm. This education app for kids is recommended for those ages 2 through 8. You can sign up for a one-month trial and, if you think it's worthwhile for your family, the app's subscription costs $10 monthly.
Hopscotch: Programming for Kids
TodaysParent.com considers Hopscotch to be a top-ranked educational app for children aged 9 through 11. This app offers computer coding in a kid-friendly way. For example, your child could learn how to build a chatbot and, not only will that engage his or her brain during the pandemic, it could be a lifelong career skill to build upon.
Children can discover how software is made, animate their drawings, publish their work on a fully moderated community on Hopscotch, and more. Kids who participate can play and learn from one another's games, and can "open them up, tweak them and remix them!"
And, in case the idea of coding sounds boring or challenging, reviews of the app show how users find making games as much fun as playing them. The interface is friendly and colorful, and users can find plenty of help. This is something kids and adults alike can enjoy.
This app is free, although there are purchase opportunities made available in the app. You can talk to your children ahead of time about any budget you might have for these add-on items.
Khan Academy for Kids
Finally, TheBestIdeasForKids.com calls another free app, the Khan Academy for Kids, the best general educational app. Tailored for kids aged 4 and up, it has won awards that range from Children's Technology Review Editor's Choice Award for Excellence in Design with a rating of 100% to the American Association of School Librarians naming it the best app for teaching and learning in 2019.
This app uses activities and games, from coloring to storytelling, to "encourage creativity and self-expression." There is a focus on reading, writing, and language, as well as math and problem-solving skills—and social-emotional development and motor development.
Khan Academy for Kids is set up to allow children to progress at their own pace through independent learning options available in the library. Games are highly interactive with five "whimsical characters" engaging with them.
Created in collaboration with Stanford's Graduate School of Education, the learning is aligned with Head Start Early Learning and Common Core Standards. Ad-free, this app is "completely free, forever."