Summer is arriving, but this one may be unlike any we've ever experienced before, with many places closed down and families needing to practice social distancing. To help keep your children engaged and learning, here are three educational activities for kids at home.
Celebrate Quirky Days
Although we may typically celebrate certain holidays, there are plenty of offbeat days on the calendar that are virtually unknown. This summer, you can bring those to the forefront and help your children to create fun ways to learn about and enjoy them. Here are:
June 18, for example, is International Picnic Day. You can plan a picnic for your own backyard, with children helping in age-appropriate ways. When measuring ingredients, your children can practice math skills and, if you make food from another culture, they can learn about geography, history, and more.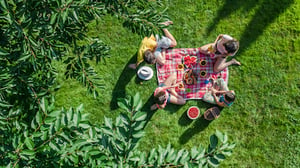 July 1 is International Joke Day. Your children can create their own joke books, including ones they find funny or have created themselves, and also illustrate their books. August 9? Book Lovers Day! You know how to celebrate that one. Third Saturday in August? National Honey Bee Day. In 2020, that will be August 15 — and there are plenty of fun educational activities to help children learn about the importance of bees.
Science Fun in the Summer
Scholastic.com offers suggestions to help children enjoy learning about science. You could create a chart where your children can keep track of the weather each day, including "temperatures, humidity, clouds, precipitation, wind, air pressure." What patterns do you notice? What can you predict? Some children may enjoy reporting the weather as if they are on television.
Your family can also create your own natural history museum, collecting natural objects in your yard. These can include rocks, pinecones, and so forth. Label them and categorize them. Read books on what you collect.
Another fun activity you could use to teach your kids measuring skills is to create a unique summer drink for your family to enjoy and to stay hydrated while participating in these educational activities for kids. Scholastic gives the following example: "The Citrus Sizzler: 1/2 cup Sprite, 1/2 cup pineapple juice, 1 spritz lime juice." You can use these recipes as inspiration.
Theater at Home
Children can learn so much from the arts while also enjoying the experience. There are plenty of ways to create a puppet theater — and here are suggestions from GreatSchools.org. Take old gloves and cut off the finger ends. Use felt tip markers to draw a face and glue on yarn for hair. Use them to tell stories to family members.
Or you can get more elaborate with Pinterest activities. Younger kids can make up their own stories, while school-age children might want to get a book of play scripts.
Your kids can also act out the plays in those books at home, devising unique costumes. Possibilities are endless, so encourage their creativity!