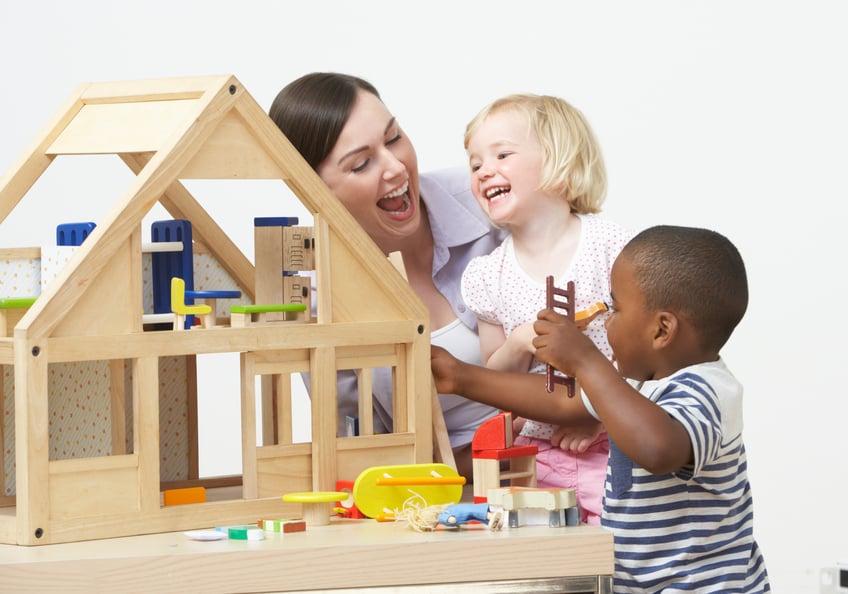 The social skills we learn as children prepare us for adult life. Socialization techniques learned during early play and daycare experiences– sharing, taking turns, forming friendships, playing well with others, problem solving, etc.—form the foundation for later relationships with family members, friends and co-workers.
Those early skills will be fine-tuned, expanded and honed over our lifetimes; but the basic building blocks of socialization begin to take shape while we are quite young. Interacting with other children and adults in a safe, structured and well-supervised daycare setting encourages children to develop critical social skills more quickly.
Daycare Benefits
High-quality daycare centers offer children the following benefits:
• Teach children how to share and take turns.
• Provide practice making new friends, being part of a team and playing well with others.
• Help hone communication skills.
• Teach problem-solving, compromise and conflict-resolution techniques.
• Encourage children to demonstrate cooperation, inclusion and compassion.
• Ease separation anxiety as children interact with other children and adults.
• Teach children to respect and listen to non-parent authority figures.
• Give children time to adjust to school-like schedules and routines.
All of these social skills will help your child transition to kindergarten successfully. "Kindergarten teachers will tell you that the students who are ready to learn are those who come into school with good social and behavior-management skills," Linda Smith, executive director of the National Association of Child Care Resource & Referral Agencies, told Parents.com. "Young children ... learn best through doing the kinds of activities they find interesting – story time, talking to their teachers about stars, playing with blocks."
In other words, the kind of social learning that takes place every day at Horizon Education Centers.