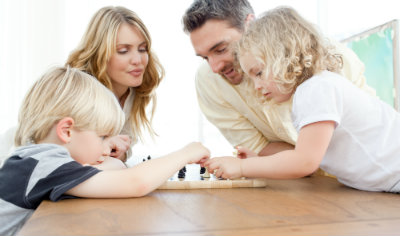 Our toddler care program at Horizon Education Centers has a smorgasbord of indoor and outdoor activities providing fun, socializing, and learning to satisfy inquisitive minds. Our multiple locations in Elyria, Cleveland, Lorain, North Ridgeville, and North Olmsted make finding and accessing a Horizon Education center easy and convenient.
After a day at one of our centers, enjoying family time together strengthens the things kids learned throughout the day. One of the best kid's activities that get everyone of all ages involved is board games. These ever-popular games have remained a traditional family favorite through the years.
Some of the top board games for toddlers and preschoolers for family time include:
• Feed the Kitty - there's no reading involved and it takes about 15 minutes to play. Kids get reinforcement in following instructions, learning about taking turns, patience and light counting skills.
• Zingo - is an easy to play card game matching pictures. It supports letter recognition which is a good starting place for kids learning to read.
• Step to It! - kids ages 3+ will get a kick out of this easy to play picture and number game that lets kids use logic, practice their letters and numbers, and estimate using time. An alternate version is available for older kids learning to read focusing on the alphabet and matching letters to corresponding items.
• Big Top - kids will put on their thinking caps and tap into their recognition skills to determine what object is missing from a stack of cards faster than their opponent.
• Hisss - focuses on players building the most snakes from pre-designed tiles. This game has it all; recognition skills, critical thinking, logic and exercise.
For parents looking for quality child care that provides a fun and nurturing environment while supporting education, contact the Horizon Education Center nearest you for more information.