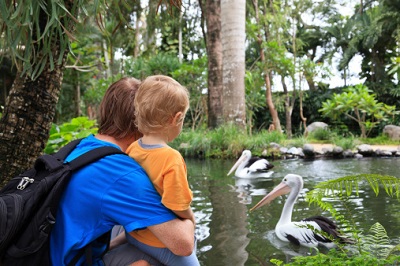 Summer is here and your children's thoughts have turned to bike riding, baseball games and other warm weather fun. Left to their own devices, it won't take long before the information and skills they learned during the year start fading into the background. You can help your children retain what they learned by using these suggestions to disguise educational opportunities as entertainment.
Zoos are a perfect combination of education and the great outdoors. Have your child read the informational signs along with you. A side benefit is that you can visit the zoo more than once and see something different each time.
Starting a rock collection is an easy and inexpensive way to learn about the environment. Have your child save interesting specimens on vacation trips or just from walks around your local area. Ask them to tell you about the similarities and differences of each.
Gardening may not have an obvious tie-in, but it's actually a nice way to reinforce basic math skills and build new ones. Work with your child on concepts such as how far apart the plants should be and how the rows should be laid out.
Be sure to stock up on art supplies for the inevitable rainy days. Turn them loose with chalk, finger paints, stickers, plenty of white and colored paper and let their imaginations run wild.
Reading should be a year-round activity. It's the basis for so many other abilities and skills. Plan regular library visits, and if your child is old enough, have him or her keep a journal to share when they return to school.
Horizon Educational Center locations such as Elyria and South and East Lorain offer summer camps as an enjoyable way to bridge the gap between school times. Please contact us to learn more.