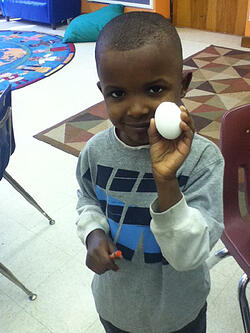 Are you expecting a new addition to your family? Have you considered ways in which you can help an older child adjust to the changes that are coming?
FamilyEducation.com offers tips on how you can help your child transition into the role of being an older sibling. Their very first tip is quite important: "Make sure you're the one to break the news that you're expecting to your older child." Learning this news from another relative or overhearing the news could lead to resentment. They also suggest that you:

Be as open and honest as you can with your child. You do not have to explain more about childbearing than you want but you can prepare age-appropriate responses should your child have questions.
Engage your child in activities to prepare such as creating a calendar or a schedule so your child has an idea of what to expect when the baby arrives. You can help your child create a "Big Brother" or "Big Sister" book with pictures and drawings.
Seek out books and videos with positive messages about being an older sibling. There are a number of picture books that cover this topic that show an older sibling who is apprehensive but eventually gets excited about a younger brother or sister.
Make time to be alone with your child and let your child decide what activity you do during this time. (In other words, this one-on-one time should not include baby preparations activities, but be a time to strengthen your bond with your older child before the baby arrives.)
And remember that at Horizon Education Centers you can get an additional 10% off when you enroll two or more children from the same family.