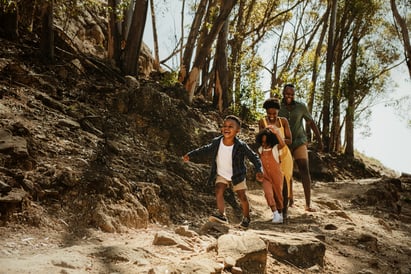 During the summer of 2021, the world is opening up in ways that weren't possible in 2020 — which means that even "routine" visits to a friend's house or to grandma and grandpa's place can feel ultra special. So, think about who your child has missed seeing and set up a play date at a park with them and make a picnic lunch. You can quickly become a playground connoisseur by packing a lunch once a week and trying out a new place.
There are plenty more quick and easy ways to enjoy summer break with your kids. No matter which ones you choose, show your children that the time you spend together is special to you too by giving them your full attention. For example, you can:
Be open to impromptu surprises. Stop at a farmers market. Take the exit to see the world's biggest ball of string. Go to local street fairs and ride the rides. Check out nearby festivals. Whether you're home or traveling, don't let your schedule override the chance to sample life's unexpected pleasures.
Stop for ice cream cones—just because it's Monday!
Institute family game night and let your children take turns choosing games.
Put on family puppet shows before bedtime using puppets or stuffed animals to act out familiar fairy tales like the Three Little Pigs. Feel free to put your own spin on the story.
Set up a tent and camp out in your backyard.
Roast marshmallows and make s'mores around the campfire or fire pit (or grill) and tell silly or scary stories.
Pop some popcorn and watch a movie.
Play music and dance together. If you'd like, you could invite people from the neighborhood to join in and play a variety of music types.
Create a scavenger hunt in your house and yard—or, again, collaborate with neighbors to make it a bigger event. Have prizes. They can be as simple as the winner picking out the next movie or choosing what dessert to have at the next picnic.
Draw chalk art on the sidewalk. No worries. It washes off in the rain or with a hose.
Plant your own family garden. This activity is becoming enormously popular, especially over the past year. It allows children to explore nature while developing a sense of responsibility. You can grow tomatoes, peas, beets, carrots and radishes. You can grow herbs and flowers. Just make sure that your children know they can't taste anything without your permission because some plants or parts of them aren't edible.
Create teams in your family and devise a cooking challenge. For example, you can follow the lead of popular cooking shows and list an ingredient (or more) that must be used in a meal. Then let creativity reign!
Build something especially cool with LEGOs.
Sign up for a library summer reading program and ask each child to share what they've learned and/or enjoyed after each book is finished. Consider planning mini trips to museums, parks and more to supplement the material in the chosen books.
Brainstorm and write a book together as a family. Younger children who can't write yet can help with the illustrations.
Choose the Right Child Care Program and Summer Camp
The staff at Horizon Education Centers understands the value of fun and creative play in child development. Our summer camp and child care programs include plenty of both!