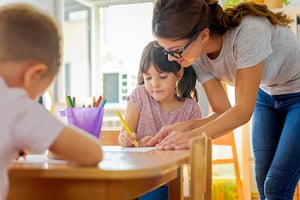 As children throughout Ohio head to kindergarten, each of them begins this important school year with different experiences and differing degrees of growth and development in the various aspects of learning and life. To help teachers understand where each of these young children is in their unique learning and social experiences, the state of Ohio has partnered with Maryland to create the Early Learning Assessment.
This assessment system is available to all preschool programs, according to the Ohio Department of Education, so they can "improve and support the growth and development of children." Ohio's Early Learning and Development Standards serve as the foundation of the Early Learning Assessment, and areas of each child's growth and development measured by these comprehensive assessment tools include:
Social foundations
Mathematics
Science
Social studies
Language and literacy
Physical well-being and motor development
Fine arts
Teachers will use a process of observation and documentation to conduct this early childhood assessment. In other words, this will not involve your child sitting down to answer test questions or otherwise participate in a formal sit-down assessment. Instead, teachers will watch to see how each child interacts and performs as a natural part of his or her day.
This is a continuous process as the teachers observe the growth of each child's learning and use what's discovered to understand how to help that child to continue to learn in the most effective ways possible. Teachers and parents will then privately sit down to review findings and discuss how parents can continue to support their children's development.
Ohio's Department of Education Standards
Here's more information about the standards for the growth and development of children from kindergarten through third grade. This can help parents understand what student learning expectations are in Ohio.
Early Learning Family Resources
The Ohio Department of Education also provides helpful resources for families, including the benefits of choosing a high-quality preschool for your child, including:
A quality preschool experience helps significantly with kindergarten readiness. Your child will learn how to share with others, take turns and follow directions—abilities that will be important in kindergarten.
This experience also gives your child an opportunity to develop social and emotional skills, from problem-solving to learning how to handle his or her emotions, along with how to spend time away from his or her family.
Sometimes your child will be able to choose which activities to participate in. This helps your child to pursue interests.
Your child can develop his or her curiosity about the world around him or her, asking and answering questions.
The preschool experience teaches your child how to care for himself/herself, along with learning how to ask for help from others. In turn, your child can discover how to offer help to preschool friends who need assistance.
Your child will participate in activities that will help to increase reading and math skills in a way that makes learning fun.
Motor skills are also developed. This includes gross motor skills as he or she plays and fine motor skills that are developed through using scissors, painting a picture and more.
There will also be a focus on language development and thinking/problem-solving skills.
If you have even younger children in the home, there are helpful resources from the Department of Education that show how to make learning a natural part of growing up, with useful suggestions about how to interact with babies and toddlers.
If you're looking for a quality preschool for your child, we invite you to check out the Horizon Education Centers nearest you!